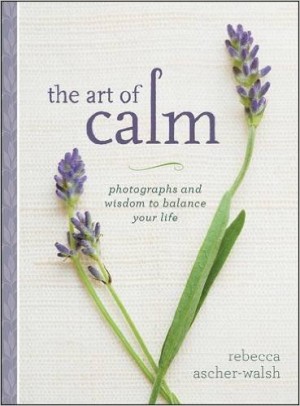 When I get together with my friends, all too often, our conversations feel like a competition over who is more busy and stressed. That isn't the intention or goal for any of us, but our lives tend to revolve around the challenges we face and how we're struggling to face them.
The Art of Calm by Rebecca Ascher-Walsh recognizes that and aims to change our mindset from the opening dedication "For all moms who think time-outs and nap time sound like heaven." This book isn't just for moms, however. The tips and ideas within the book – each an easily digestible page – can fit with so many who just need to slow down and breathe (always easier said than done), both male and female.
The tips range all over the board from items to always carry in your purse to the reminder that a few brownies never made anyone fat and an urge to enjoy every moment of the occasional treat. A quite helpful simple brownie recipe immediately follows – the advice in many cases is immediate and practical. It isn't an excuse to ignore all responsibilities and challenges in life and simply chuck it all, as evidenced by the gentle reminder to create inner calm by not procrastinating.
There is no rhyme or reason to the pages. There isn't  chapter on self-care followed by organization or anything of the like. The book is sprinkled with inspirational quotes throughout, as well as tips and ideas. There are several recipes throughout for quick meals of one sort or another that are not intimidating and can help create that oasis of calm we all need. This allows you to open the book to any page and select one or a few to focus on for that day.
Not all the suggestions will work for all people. Some require a lifestyle (financial, time, family circumstance) that not everyone enjoys like having a date night with yourself once a month or signing up to take a class to learn something, but the vast majority are doable and sometimes eye-openingly simple but satisfying. Spend 5 minutes unsubscribing from email lists for all those emails you never open? Duh! Turn off all electronics and crawl into bed at 8pm with a book? Heaven.
As hectic as our lives get, we're allowing them to get that way. The Art of Calm was the perfect reminder to take a step back and smell the roses – sometimes literally. It's an easy read and a book you can pick up and put down as needed. As I'm starting my goal of balancing my life, this fits in exactly as I need it to.
Written by Michelle of Honest & Truly! who is fully immersed in the hustle and bustle of modern day life. See how she's finding time to take a step back on her blog Honest & Truly! and follow along with her on Twitter and Instagram where she is also @HonestAndTruly.