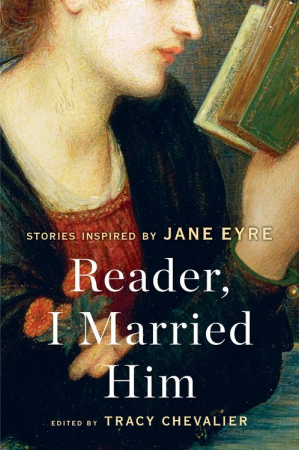 "Why is 'Reader, I married him' one of the most famous lines in literature? Why do we remember it and quote it so much?" asks editor Tracy Chevalier in the foreword to a new collection of short stories inspired by this very line. And of course, she is right to ask. It is a very famous line, and one that continues to resonate with new generations.
Chevalier approached 21 women writers and asked them to produce a short story with this line as their take-off point, and it's fascinating to see what a diverse collection of writers have done with it. She imagines it as a stone thrown into a pool and the resulting stories as the ripples, some closer to the source and others mere echoes. This analogy really works, as some stories are very close to the material–such as the one written from Grace Poole's point of view, or Mr Rochester's–while others riff on the ideas of love and marriage, but otherwise have nothing to connect them.
The level of writing is high; these are famous authors such as Tessa Hadley, Audrey Niffenegger and Lionel Shriver, to name a few, as well as of course Chevalier herself. It's a very interesting story collection, and I loved seeing what different people did with the theme of love and marriage.
One story, titled "Reader I Married Him," reimagines the real-life narrative of Edward and Mrs. Simpson, Wallis, the divorced American woman for whom Edward VII abdicated the throne of England. Another meditated on Jane Eyre's most famous line and imagined a lesbian relationship, setting her tale in a boarding house in Germany in the 1870s, drawing upon correspondence and diaries of the time period and modeling her characters after actual people. In "A Migrating Bird," a young Dutchman studying in a small Turkish village attracts the attention and love of a young Turkish girl, who finds herself willing to go against family and culture.
I enjoyed thinking about how each story reflected back to the theme. Sometimes it was easy; in "My Mother's Wedding," for example, a light-hearted look at an impromptu marriage carries notes of deeper emotions; in "The China from Buenos Aires," an ethnically-Korean girl who grew up in Argentina and is now homesick and lonely as she tries to learn English in New York finds herself open to something familiar that she would have formerly rejected. In "Party Girl," love is unexpected and beautiful, and again more familiar than might have been expected. In "Dorset Gap," a young man follows a young woman on a muddy countryside hike; she's reading Jane Eyre, has it with her in her backpack, and this story is kind of funny and leaves you wondering what might happen next.
The collection is a disparate collection of writings, and if you don't like one story you're sure to love another. In "The Mash-Up," a secular Jew marries a secular Persian and the wedding is filled with love and culture until a shard of glass intervenes to ruin things. In "The Self-Seeding Sycamore," a middle-aged widow's feud with a neighbor turns into proof that love can grow in unlikely circumstances.
Reader I Married Him is an enjoyable read, with short stories offering the breathless hope of new love and others showing the despair when it dies. Its offerings span the human condition of youth and age, optimism and pessimism, literary allusions and literary ignorance, strait-laced and hippie-loose. They look at societal expectations and gender roles, and the ways in which we affirm and break them. It really has something for everyone.