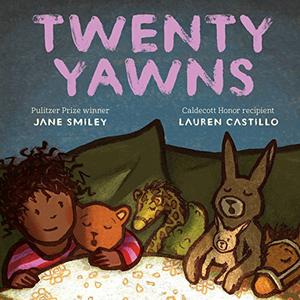 Sleepiness abounds in the new picture book Twenty Yawns by Jane Smiley, a lovely glimpse into one young child's eventful day and yawn-filled evening. With illustrations by the masterful Lauren Castillo, the warmth of the story is perfectly conveyed in the images, as well.
The opening pictures show a young girl named Lucy at the beach with her parents, contentedly jumping in the low waves at the shore and digging a hole big enough for her father to lie in. From under their umbrella, Mom and Dad read and relax before walking hand-in-hand behind Lucy along the beach. They spend the entire day there, in fact, and the sun is setting as they pack up to leave, all three with yawning expressions on their faces.
Lucy's evening routine is depicted in a quiet and familiar way, and with a few more yawns, Lucy goes to bed. But when she is suddenly wide awake in the middle of the night, she finds it eerie to be the only one awake. Her room appears different in the moonlight, and she even feels like the images of her family in her drawings on the wall are watching her. Padding through the house, Lucy gathers some beloved stuffed animals and heads back to bed, where the yawns continue to add up as she perceives the figures in her drawings as well as her animals to be as sleepy as she is. By the final page, children following along will have counted all twenty of the yawns just in time to see Lucy fall back asleep.
I think there is a special tenderness to this quiet story that shows a respect for and an understanding of a young child's perspective. It can be quite a strange experience to wake to a moonlit-drenched room and hear the gentle sounds of your parents' snores coming from another room. I didn't feel this depiction focused on fear, but rather an understanding of the oddness of the experience from Lucy's perspective. I've long been a big fan of Castillo's artwork, and her use of color in this book varies from the light and bright scenes of the beach to the warm, glowing low light in the images of Lucy's house in the evening.
Twenty Yawns shows a day in the life of a loving family, who happens to be biracial, from the perspective of a young child. Add this to your own bedtime story rotation!