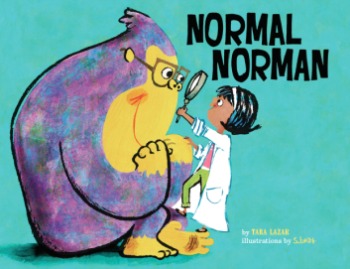 The "Junior Scientist" you see on the cover of Tara Lazar's new picture book Normal Norman is tasked with narrating her first book and giving a clear explanation of the word normal. Norman, her primate subject, has been chosen to demonstrate this concept, because he is, according to the young girl, "EXCEEDINGLY normal."
Or so she thinks. Though her calculations and observations show him to have an absolutely normal physique- head, ears, and paws- Norman quickly begins to exhibit some behaviors that clearly do not fit into normal parameters. A preference for eating pizza and confusion about fruits such as bananas and oranges? Followed by an outburst in which he reveals he can speak? Absolutely not normal.
Things only go downhill from there for the Junior Scientist, and despite her best efforts at trying to get Norman to engage in the expected manner for a gorilla, he insists on being himself, even if that means his best friend is a giant snake and that he sleeps on a bunk bed with his favorite snuggly toy. The young researcher cannot handle it, breaking down at her perceived failure to the readers to demonstrate the word normal. How Norman responds is better than normal, because his empathy helps the girl to see that acceptance of who we are is much better than expecting everyone to act the same way. When he introduces her to his friends in their natural habitats, she sees a whole lot of animals behaving in unexpected ways, but all perfectly happy with themselves.
I like the idea of challenging children to consider the concept of normality, especially when they're younger and not quite as influenced by media and peers just yet. To do so with humor and grace, as Lazar does here, is a bonus.
The illustrations by S.britt contribute perfectly to the tone of the book, with delightful expressions on the characters' faces and a whimsical use of color combinations. In addition, I can't help but cheer at the choice of making the protagonist a person of color, a fact that has nothing to do with the plot at all, but simply offers a character in which many children will be able to see themselves.