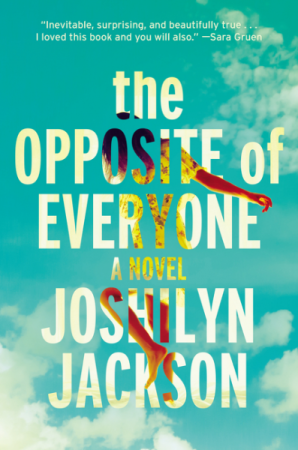 For some reason, when I really like a book it's often harder for me to review it. I think it's because I worry about doing it justice, and I want to come up with great phrases that capture it perfectly for you, so that you'll see its magic and rush out to get it immediately. Such is the case with Joshilyn Jackson's latest, The Opposite of Everyone. Jackson manages, as always, to create a rich, vibrant world teeming with interesting characters interacting in ways that frustrate and delight. I always think of her books as funny, but I realized while describing one that it's her writing style that amuses me, while her characters deal with lives as messy as our own.
Kali Jai is born blue, to a teenage mother in juvie who hands her off to her unimpressed, mean-spirited mother, who renames the baby Paula Jane, or "what you said, only in American." (2) By the time the story opens, Paula is a high-powered lawyer, as tough as her grandmother was mean, a no-nonsense dirty fighter who earns a high salary. It's a far cry from how she grew up, with her mother Kai (neé Karen), a free-spirited young woman who floats across the countryside from boyfriend to boyfriend. Paula and her mother were very close when she was young, a team of two against all others, but have become estranged, with Paula somehow so deep in her mother's debt that even monthly payments meted out over 15 years can't repay it. Every month, Paula sends her mother money, and every month her cheque is cashed, but that's their only form of communication. So Paula is shocked to receive that cheque back one month, with a cryptic note scrawled on it telling her that her mother is dying. And so begins a hunt to track down her mother, in hopes that she is still alive
When Paula was growing up, as she and Kai were moving from city to city and relationship to relationship, Kai would tell stories. Weaving Indian mythology with oral storytelling traditions from the South, Kai interpreted their lives through the framework of angry goddesses and baby elephant gods with insatiable appetites. Now, as Paula searches for her mother, she finds herself going back to the stories for clues. When a surprise visitor suddenly reveals himself as family she didn't even know existed, Paula is catapulted back to reliving painful memories and interpreting them in new ways.
Paula spent her own time in juvie, a form of foster care, and she emerged hardened and yet with a sense of justice that carries her forward. She learns to survive, but at a cost. She's a prickly individual, not easy to work with, living alone with a cat and trying to get her ex to work with her again. Yet she's never been as tough as she tries to appear. She needs people more than she can admit to herself or others.
The Opposite of Everyone
is a novel about story-telling, about belonging and family, and above all about how the stories we tell and are told define us, shape us, and explain our place in the world. It's really really good. Jackson writes stories that are eminently readable, with fully fleshed-out characters. I loved this book. It's the sort that's accessible enough for your book club, but has enough depth to keep you thinking about the characters for days after you finish reading. Highly recommended.