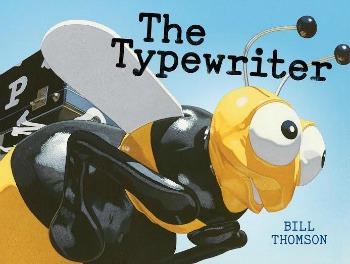 Master of wordless picture books, Bill Thomson is back again. His newest offering is called The Typewriter, and it offers the same kind of imaginative magic of his previous wonders, Chalk and Fossil. (Click those links to read my thoughts on those. Spoiler alert: I loved them, too!)
Three children arrive at a carousel on their bikes, seemingly in the middle of nowhere, only to find it closed. No one is in sight, but there is something atop the bumblebee-shaped seat on the merry-go-round. Their curiosity piqued, the children open the box to discover an old-fashioned typewriter (marked "SPELLING BEE"– get it?). Luckily, one of the children happens to have a sheet of paper in her backpack, so she loads it in and begins to type a word: Beach.
If you're familiar with Thomson's work, you can probably guess what comes next. Of course, an entire beach appears before the children, the grassy landscape suddenly transformed into foamy, white waves and light-colored sand dunes. Quickly understanding the magic of the typewriter, the children take turns typing new words and reveling in the magical results.
They soon find out, however, that some words are better than others in this game. Thankfully, some quick thinking gets them out of a tough situation, and they decide that their time there has to come to an end. Packaging the typewriter back up, they place it back where they found it, and readers may be reminded of the ending of the classic picture book, Jumanji by Chris Van Allsburg, wondering if another group of children will come upon it and have their own adventure.
As with his previous picture books, it must be noted that Bill Thomson creates all of his illustrations by hand, using acrylic paint and colored pencils. Trust me when I say that you simply have to see these images for yourself, because the details are remarkable. The images of the children are incredibly life-like, and I know that my own children will be just as enthralled by this book as Thomson's others.