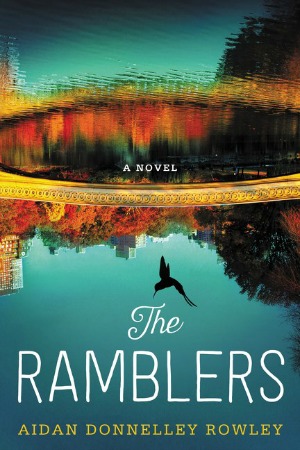 The Ramblers by Aidan Donnelley Rowley is a novel about accepting one's past in order to embrace one's potential future. Lofty ideas, yes, and the types of struggles some may call "First World problems" perhaps, but a fitting theme for a character-driven novel.
Focusing on three different characters whose singular story lines become woven together, this novel brings readers into the heart of New York City, and random facts about its history and those who have called it home are sprinkled throughout. Clio, a bird expert who leads bird-watching tours through the lesser known areas of Central Park, is on the precipice of taking a definitive step in a serious relationship but finds herself held back by her fears. At the center of her fears stands the figure of her mother, diagnosed bipolar when Clio was a child, whose unpredictable behavior and eventual suicide cause Clio to live with the ever-present anxiety that she will follow in her mother's footsteps.
Clio's best friend, Smith, would appear to have it all– an extremely wealthy family, a breathtaking home in a most upscale NYC apartment building, and a business that allows her to pursue her interests and help others. She is still reeling, though, from an inexplicable breakup. She was engaged and happy, and suddenly her boyfriend cut off their engagement with no specific reasoning and an expression of regret. Without answers, Smith feels lost, but must put on a happy face as she faces her younger sister's wedding.
Tate, a former college classmate of Clio and Smith's, also stands at a turning point in his life. Now in the final stages of a divorce after finding his wife with another man, Tate's misfortune came right at the same time as his professional life was taking a turn for the better. Selling an app that he and a friend developed has catapulted his finances, finally allowing him to leave behind a life in business suits and corporate meetings in exchange for the freedom to pursue his passion for photography. He struggles to find a personal happiness, though, as he still mourns his broken marriage.
'Broken' is a word that comes up frequently here, as all three characters are indeed "at least a tiny bit broken." How they ultimately work toward their own healing is to be found in the latter sections of the novel. The novel is split into sections that alternate point of view among Clio, Smith, and Tate, with the earlier sections much longer than later in the novel. I found that it took a while for me to become invested in their stories throughout the earlier sections. The final third or so of the book became more engaging for me, with shorter sections and more narrative cross-over that contributed effectively to the overall development of all three characters. For the characters are what drive this story, especially as it takes place over the course of only a week, yet what a defining week for all three.