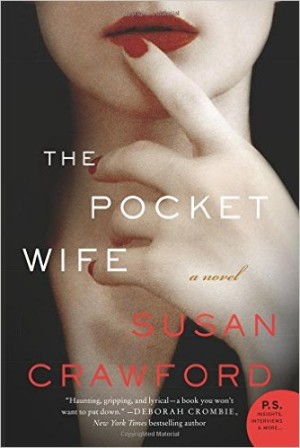 Celia Steinhauser is found dead in a pool of her own blood in her house late one evening by her husband Ronald. Dana Catrell is awakened from her drunken nap by the sound of the siren, and she hurries down the street to see what has happened. She and Celia were just together, drinking too much sangria. Dana thinks they fought but doesn't remember much else.
Dana has had a hard time, especially since her only son left for college. She feels like a pocket wife**. Whenever she calls her husband Peter, even for something as important as to report the murder of their neighbor, he never has time to talk to her. If he does make time, he slips her (the phone) into his pocket until he can leave his meeting or get off his phone call so that he can give her some attention.
She feels herself slipping into madness, a feeling she remembers from a breakdowns she's had in the past, though not for many years. She undertakes her own investigation which only leads her to question her own role more closely.
The Pocket Wife follows detective Jack Moss' investigation into this murder. Instead of there being no suspects as is sometimes the case, there seem to be too many. Dana herself fears she did it and just can't remember. Peter seems awfully shifty and more concerned about talking to Moss than an innocent person should be. Of course there's always the husband: Ronald is caught in several lies, has revealed that their marriage was in trouble, and doesn't really have an alibi.
Author Susan Crawford kept me turning pages. I read the bulk of this novel on a flight, and I'm glad this was the book I brought along, because otherwise I might have sat as stone on my sofa as I needed to find out the resolution to this story. Throughout the novel, I felt as if I knew who the murderer was at different times, but never with complete certainty. She deftly doled out clues and once the true culprit is revealed, it holds up against the narrative.
When I was writing up the review for this paperback release, I noticed that Elizabeth reviewed the book last year when it was released in hardcover. Read her review — they're always excellent — for another perspective. Realizing that my friend had read the book made me want to discuss it with her, which led me to believe it would be a great book for a book club. You could easily discuss who you thought was guilty and why, who the good guys and the bad guys are, and the question that I kept pondering: were Celia and Dana really friends, and if they were, why did Dana downplay their friendship?
In the notes at the end of the book, the author explains the pocket wife, yet another topic that bears discussion:
I think one of the reasons women are so interested in the meaning of the title is that on some level they already know what it means. They have experienced pocket wifery themselves, or maybe they've watched a friend underplay her intellect at a neighborhood barbecue or douse her ambitions with one too many eggnogs at her partner's Christmas party.