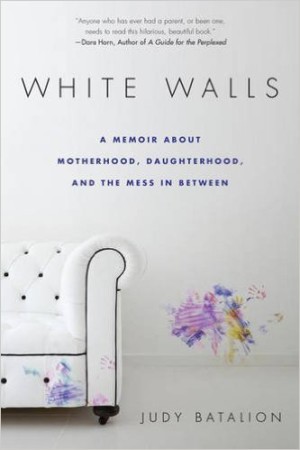 My mom was not a hoarder. She never endangered her health or ours, but she did keep things — magazines, plastic butter dishes — and these things did clutter up our cabinets and her bedroom. When I read the novel The House We Grew Up In, my eyes were opened to the reality of this disorder. The memoir White Dresses is a daughter's story of a mother who was a hoarder, but it is only a piece of the story. In White Walls: A Memoir About Motherhood, Daughterhood, and the Mess In Between, Judy Batalion is really telling her story. Yes, it includes a mother who was a hoarder and the way that shaped Judy's tendencies, but it's not solely about the hoarding.
Judy was raised in Quebec by her mother and father, with help from her grandmother. Judy shares the typical adolescent feelings of being embarrassed by her mom: she doesn't dress right, she doesn't buy the right clothes for Judy, she does weird things. As the story continues, we learn more of her mother's mental illness, manifested not only in the state of the house, but in paranoia and depression.
Judy gets away as soon as she can. Having been admitted to Harvard, she relocates easily. Time as an adult is spent in London and New York City. Her career choices, her apartment decor, her leisure activities are all colored by her past.
But as I alluded earlier, this is not so much a memoir about hoarding, as a traditional memoir. Effective books in this genre always tell someone's story in light of whatever difficulties or differences that have shaped them. This one does that.
This is not a short book — almost 350 pages — but readers will be rewarded for sticking it out, because Batalion's storytelling is strongest in the last half where she shares about finally finding love, her pregnancy, early months of motherhood, and the difficulties of enrolling her child in a New York City preschool.