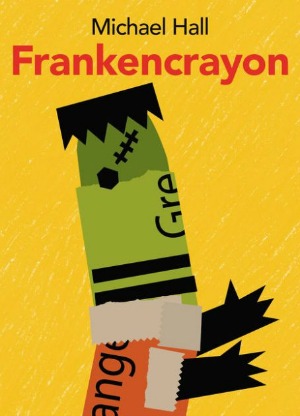 Humor and unexpected turns drive Michael Hall's Frankencrayon, a fun new picture book that breaks the fourth wall and gives young readers an inside look into how a story book can be canceled.
Yes, that's right, canceled. It's stamped right there on the inside flap, as well as over the introductory image introducing the cast and crew on the first page. How does one tell a story after it's been canceled, you may ask? Quite creatively, and a bit 'meta' as they say. The individual crayons and one pencil that were to play the characters– the frightened townspeople, the narrator, the crew, and the three parts of Frankencrayon himself (top, middle, and bottom)– proceed to explain to the reader how the story came to be cancelled.
They tell of how they were prepared to begin the story as planned, but suddenly the 'set' went completely dark. When they came back on, a terrible surprise awaited them at the top of the page. The Townspeople crayons attempted to solve the problem, but their efforts only made matters worse. Shortly after, official notices began to appear on the page announcing the cancellation of the book. (And introducing a slight hint that may make careful readers a little suspicious…)
Because of a small oversight, the three crayons making up Frankencrayon were not present when this all went down, but when they do show up, the seem to have an idea to solve the problem. By the end, a so-called cancelled story ends up being hilariously told in a new way, and the final page acts as the reward to those readers who were paying close attention!
Kudos to Michael Hall for making a picture book with a sophisticated twist that will make readers work a little to untangle the jokes. Visually, there is much appeal with different fonts acting as different voices and illustrations that will change the way we look at crayon pieces from now on.