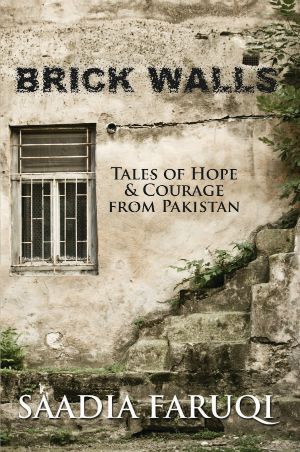 I often approach fiction as an escape, a way to leave my daily life behind for just a little while and immerse myself into a tale crafted to entertain. It's refreshing, though, to find fiction that challenges my preconceived notions and aims to open my eyes, in addition to simply satisfying my desire for a good story. Brick Walls: Tales of Hope and Courage from Pakistan by Saadia Faruqi does all of this in a series of captivating short stories.
Faruqi's short stories present people of all ages from a variety of walks of life in modern day Pakistan. From Asma in the opening story, who at the moment she finds herself destitute is blessed with life-changing kindness from a stranger, to Faisal, whose personal downfall leads to him being taken under the wing of a would-be terrorist, the characters are brought to life with strong, clear voices. I was most taken by Lubna, the protagonist of the final story in the collection. Wrongfully imprisoned for a decade, she tells her story of woe and wholly unjust captivity with a complete lack of self-pity. Unimaginable horrors have been her fate in life, yet she continues to hold onto hope for a better life someday. Lubna is completely resilience embodied.
Ten years ago, when I arrived as a scared young woman at this unassuming jail I had no idea what lay ahead. Today I walk out a free woman at last; wounded but still standing, I don't know what will happen tomorrow. All I know is that I have had a good life; despite its tragedies, I've made some good friends, learned a lot about this world, and that inshallah I will survive."
Though the stories contain cultural touch-points that may not resonate with everyone, there is a wonderful sense of universality to the characters' inner thoughts and motivations. Faruqi's characters speak out against (or just think against, if that is all that is within their power) systemic issues of misogyny, poverty, and inequities in the criminal justice system, among others. Giving insight into experiences that may be completely foreign to some readers, Faruqi doesn't sugar-coat nor demand understanding or sympathy, but simply presents individuals with powerful stories.