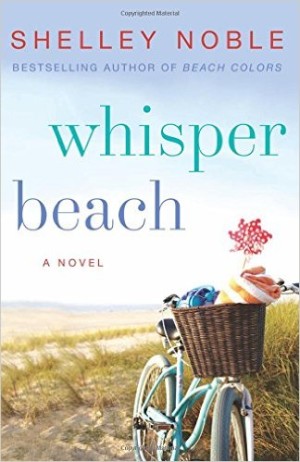 When Vanessa Moran finally returns to her hometown after running over a decade before without a word to anyone, it's for the funeral of her cousin's funeral. At one time, Gigi was Van's best friend, and it was Gigi who cleared out her $2,000 college savings account to help Van run away at the age of 17 in Whisper Beach by Shelley Noble.
Van lives in Manhattan and runs a successful organizing service in Manhattan, and her employees have forced her to take a couple weeks' vacation. She doesn't intend to spend it at Whisper Beach and has a room booked at a swanky spa not too far away, but when her old boss at The Blue Crab Dorie begs her to stay, she agrees just for a night. Gigi needs her, and her former coworker Suze – the only one she kept in any contact with after she fled – is also there to provide support.
Van thought she had put the past behind her, but the more she stays, the more she realizes she has unfinished business in her old life that she needs to put behind her. She renews her friendship with Dorie and tries with Gigi, though there seems to be something wrong with Gigi more than just her husband dying. And then there's the boyfriend she let behind, Joe. As much as Van is disappointed in the choices she sees Joe having made – drinking in the bar in the middle of the day, living over a run down marina, etc – there's still a pull there she has a hard time fighting.
Add Dana, the troublemaker from their days as teenagers working at the Blue Crab who hits on anything that moves, then moves in with Dorie when her boyfriend beats her enough to convince her to finally move, and everything is bound to come out in the open. That doesn't even count the father Van hasn't spoken to since he kicked her out of the house as that seventeen year old when she told him she was pregnant.
There is more drama in this book than belongs in any one person's life, but that makes it a great escape and an entertaining read. The characters all have huge personality and stay within their prejudices throughout the book that makes all situations worse until they grow and get better.
It isn't hard to predict some of the course of the book, but that isn't the point. Yes, you're pretty sure what's likely to happen, but the getting there and the enjoyment of the characters along the way is why we read this type of book. It's a fun beach read, although I'll admit that unlike many where I can set it down and walk away for awhile, I kept thinking about the characters and wondering what was coming next, which kept me picking it up more often than I ordinarily would.
Written by Michelle of Honest & Truly! who has no such dark secrets in her life. See how she spends her time in the kitchen instead on her blog Honest & Truly! and follow along with her on Twitter where she is also @HonestAndTruly.