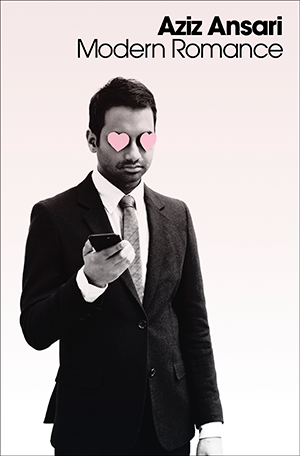 You likely know Aziz Ansari from his acting career, especially if you are a fan of the (super brilliant) Parks and Recreation, or as a hilarious stand-up comedian. In both of these realms. Ansari makes people laugh as he talks about, or portrays a character who obsesses about, dating. It's only fitting that he would write a book on the topic, but don't think that this is your run-of-the-mill comedian-turned-author reading experience. In Modern Romance, Ansari teams up with sociologist/author Eric Klinenberg to create a piece of nonfiction that blends humor and research in a unique way. For me, the equation could only be Humor + Sociology = Awesome Read.
Having been in a committed relationship for more than twenty years now, I wasn't approaching this read for dating tips, but out of mere curiosity. (And because I do quite adore Aziz!) I wasn't quite sure what to expect, but it became clear early on that this would be a book of substance, for the research that went into it was real and serious, but the information is presented in Ansari's signature comical tone.
During his stand-up shows, Ansari would often ask members of the audience to share their own dating stories, but in a particular way– through their texts. People would read their text message exchanges with potential dates, and the results would so often be painfully funny, in all their awkward glory. Many of those texts found their way into this book, as the authors examine the state of dating today. As they compare the function of dating to previous generations, it becomes obvious just how much times have changed. People in our society are marrying later, leading to a much longer average period of dating, and the ways in which people are meeting are rapidly shifting, especially with all the technology now devoted to helping people connect. I'm not sure my grandmother could even fathom the way Tinder works. (Honestly, I'm not sure I even get it, and I'm not even 40 yet!)
I was intrigued by the way modern dating has changed so drastically in just a few generations, and I find it surprising that even a generation ago, I was in the minority in how I met the man I married (at college). I don't envy folks dating today, as the findings repeatedly showed that the more technology we have gives people more options than ever before, which can make dating SO MUCH HARDER than ever before! At first, that sounded counterintuitive, but I came to see the logic through the many personal stories and research collected in the making of this book. I found this entire book to be highly interesting, and with Ansari's goofy (and sometimes profane) humor interspersed throughout, it was a ton of fun to read.
Check out our current giveaways. Subscribe to our feed. Follow us @5M4Bon Twitter or on Facebook. Pin away with us on Pinterest.