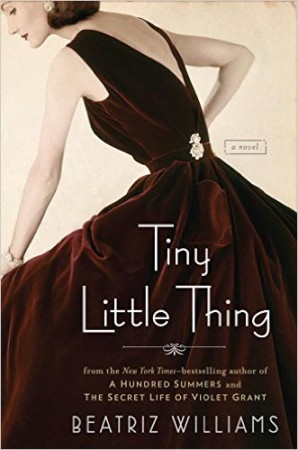 I have found a new author to love. Beatriz Williams wowed me with Tiny Little Thing, a novel set in the 60's in a Kennedy-esque family with generations squared away in their Cape Cod home for the summer.
The matriarchal grandmother lives there, but she's turned over the authority to her eldest grandson Frank's wife, Tiny. Tiny feels out of place there amongst his sisters and their children. She's suffered a miscarriage, and everyone else is blessedly fertile. Her own sister Pepper is spending some time there as well, but she certainly doesn't make it any easier for Tiny with her flamboyant ways and judgmental eye.
Frank — and the other men — come and go, but Frank in particular is focused on running his campaign. His father is focused on this as well, keeping up appearances, since his own chance at a political career failed when his marriage ended.
This family has a lot of secrets. Tiny has secrets, and she knows that Frank and his father do as well. The story is advanced through flashbacks from when Tiny first decided to marry Frank, where it is revealed that she had her doubts all along. The voice is interesting. It's from Tiny's point-of-view, but there are asides throughout the book, as if she's telling someone her story, which surprised me and fueled my curiosity each time I came upon them. For example,
"You might be wondering why Frank's mother isn't the lady of the house instead of me, organizing its dinner parties, decreeing the house flower, and you might suspect she's passed away, though of course you're too tactful to ask."
Frank's mother is another secret whose answer comes out in small leaks throughout the story.
The acknowledgements at the end of the book start this way (Yes, when I enjoy a book, I keep reading — acknowledgements, background, excerpts from other books — whatever there is after the story ends):
In The Secret Life of Violet Grant, Vivian Schuyler dismisses her oldest sister in a few lines: "Neither of us could politely stand Tiny, who by the grace of God had married her Harvard mark last June, and now lived in a respectably shabby house in the Back Bay with a little Boston bean in her righteous oven. God only knew how it got there."
She goes on to say, "As soon as I wrote that paragraph, I knew that perfect little Tiny was hiding a very big secret, and my next book would be about her."
Tiny Little Thing is that book, and it was one I enjoyed greatly. I would like to read the novel mentioned to learn more about the Schuyler sisters and to experience Beatriz Williams' captivating writing style.