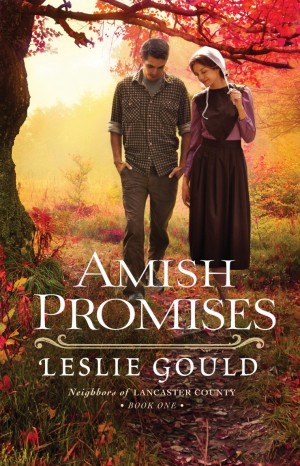 Author Leslie Gould has taken a break from her series of Shakespeare plays set in Amish country, a fascinating look at a place in our own time where similar socials mores and expectations exist (for example, in Courting Cate
, the older daughter is required to marry first–not exactly the norm in today's America). In her first book in her latest series, an "Englisch" family moves in next door to an Amish family, and both have to decide what exactly that will look like in everyday life.
Shani's hoping for a new start for her family. Her husband, Joel, is a wounded Iraqi vet who needs time and space to heal–not just physically, but emotionally and spiritually as well. He's withdrawn and at times suicidal, and just after they move in he has another accident and breaks his leg again. She's pregnant and they have a 12 year old who is trying to navigate both oncoming puberty and the strained relationship between his parents. Shani moves them to her grandfather's old house hoping this time in the country will give the family a chance to heal and renew. Charlie, who was Joel's commanding officer in Iraq and who has become a close family friend, comes along to help them get settled.
She's welcomed by Eve, the Amish neighbour. After all, Eve very nearly left the church years earlier, when she fell in love with an Englisch man and seriously considered marrying him. She and her old friend Abra were pretty wild when they were young, 2 Amish girls off the leash, but when Abra returned to the church, Eve felt guilty enough to come along with her. Abra married Eve's brother Tim, a taciturn and harsh man, prone to favoritism and unfair treatment of those around him. When Abra died, leaving 5 children including a baby, Eve knew she had to move in and take care of the family, no matter the cost to her own personal dreams. But when she meets Charlie, she begins to reconsider again that promise.
Meanwhile, the children of both families hit it off immediately. Eve and Shani begin a friendship, but Tim soon puts a stop to it. He's offended by Joel's military background, and suspicious of the influence these outsiders could have on his family. And he's wild about the spark between Eve and Charlie that's evident to all around them.
As the two families weather storms, hospital stays, premature births and more, they have to decide if they can learn to live together. Amish Promises
reflects growth and change that are possible when people open themselves up to the spirit of God in their lives. I enjoyed the juxtaposition of a military family dealing with the after-effects of war (survivor's guilt, PTSD, resentment, readjustment) with an Amish family afraid of outsider influence. An enjoyable read.
(Full disclosure: Author Leslie Gould is a personal friend.)