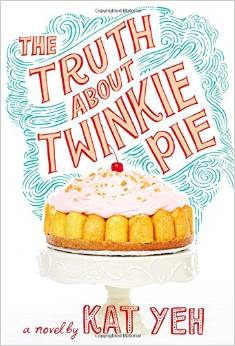 When 12-year-old GiGi's sister DiDi wins a cooking contest, she decides to move she and her sister to New York. Their South Carolina trailer burned, so they lost everything, including their mother. DiDi is a junior high dropout and has been taking care of GiGi since she was a teenager. She wants GiGi to have the opportunity to exercise her brain, and she wants her to experience the excitement of a city so different from rural South Carolina.
GiGi sees the move as an opportunity to reinvent herself, starting off by changing her name. She's ditching her nickname, and she's certainly not going to go by her given name Galileo Galilei, but Leia is the perfect start to her new life. The first day of school is hard, with everyone catching up on their summers, but when she trips over a boy named Trip, things start to look up. Trip and his friends take her in and welcome her, even giving her a nickname "G-girl." But what about Mace? Why is she so mean to Leia?
GiGi/G-Girl/Leia's voice is sweet and clear in The Truth About Twinkie Pie from Kat Yeh. It has all the normal components of a junior high story, including trying to fit in, figuring out her likes/dislikes, crushes, friends, enemies. "Twinkie Pie" is GiGi and DiDi's signature dessert, topped with whipped cream the color of the only lipstick their mother ever wore, Revlon's Cherries in the Snow. Each chapter has a fun recipe included that kids might want to try. "The Truth" about a lot of things comes out in twists and turns at the end of the story and wrapping it up in a really satisfying way.