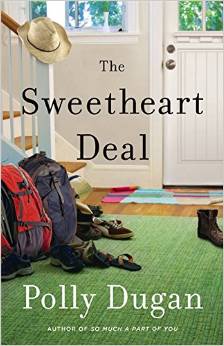 Audrey has always lived with the risk of losing her husband. Leo is a firefighter and loves what he does, but hates the idea of an accident taking his life, so he has always joked that his childhood friend Garrett, a confirmed bachelor, should marry her if anything ever happens to him.
The unthinkable happens and with this pledge in the back of his mind, but mostly just because it's what he feels he needs to do and where he feels he needs to be — he leaves Boston to spend time with Audrey and the boys. One practical thing he can do that can justify his presence is to finish the addition on the house that Leo was in the midst of doing. The longer he's there, the more he sees how the boys appreciate having him around, and Audrey needs the comfort and presence of an old friend who knew Leo as well as she did.
I ended up feeling somewhat mixed in my feelings about The Sweetheart Deal by Polly Dugan. It's written in a style I really enjoy, of switching between alternating characters' POV from chapter to chapter. In this case, the story switches among Audrey and Garrett primarily, but also brings in the perspectives of Christopher, Brian, and Andrew, who range in age from 15 to 11.
I was definitely invested in the plot and found moments to keep reading to find out how it all resolved. Dugan's portrayal of the tween and teen boys was heartfelt and honest. The grief that they are all feeling was so powerful and well-written that it served as an extra character.
That said, there were times that I didn't feel a connection to the writing, and I was also put off by the cursing in the novel. It wasn't so much that I wanted to put it down, but more than I felt was necessary, and it could be aptly described in the way our parents used to tell us: that it's not intelligent or creative. This isn't always the feeling I get when authors choose to use swearing, but in this case it was.