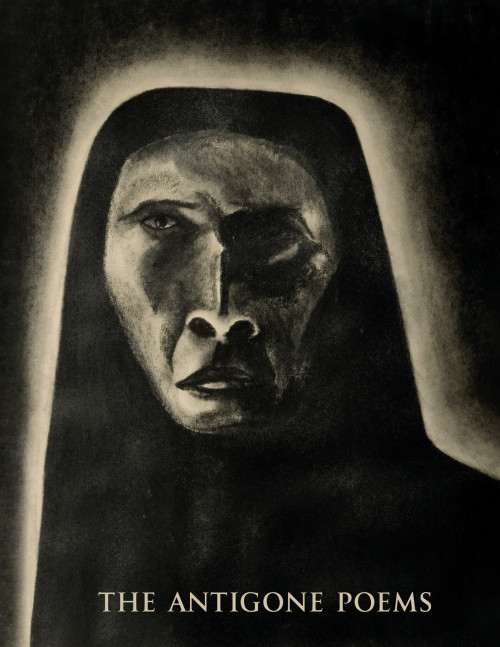 Many of you are familiar with the play Antigone by Sophocles, which tells the story of Antigone, daughter of Oedipus and his mother, Jocasta. For those of you who don't remember it from Greek mythology class, it's a tragedy wherein Antigone tries to secure a proper burial for her brother Polynices, but fails because he is considered a traitor in Thebes, so even mourning for him is taboo, punishable by death. She ends up hanging herself after being walled up alive in a cave to die. King Cleon's son Haemon also kills himself for love of her, which leads to the death of his mother the Queen. There, in a nutshell, a Greek tragedy.
Fast forward to the 1970s, Montreal. Poet Marie Slaight and artist Terrence Tasker collaborated on a collection of intense poems written by Slaight and illustrated with charcoal drawings by Tasker. It was released last year, some 40 years on. Tasker died in 1992.
I wasn't surprised to learn the poems were written in the 70s. There's that feel of angry feminism and paganism that felt familiar from reading other authors like Margaret Atwood and Sharon Olds (both of whom I love, at times). The book itself is beautiful, printed on Australian specialty paper, sparse, a pleasure to hold and read. They are releasing an ebook but don't bother, honest. This is a book that is meant to be held and interacted with on a more primal level.
The Antigone Poems
are intensely personal, almost withdrawn, connected to Sophocles' Antigone by only the merest thread. In fact, the poems don't follow any kind of narrative structure, except that they are divided into 5 chapters which roughly (very roughly) follow the outline of the original story, and in fact that story provides what framework exists. However, it would be possible to read these poems without knowing anything about the original Antigone. They are broader than that, deal more with universal anguish and affliction rather than a specific individual story. Stark, short, and intense, the poems' focus on suffering and strength in suffering, rather than on the courage and defiance shown by Antigone in defying the king's orders, allow them to read as a sort of "everywoman's" experience. "And sing/my bitter praises/to nails/and flint/and flesh…" opens the first poem (in fact that is the entire first poem), and it sets the tone of pain and a fierce, almost violent, agony.
Some of the poems contain a hint of eroticism, and seem to be referring to the relationship between Antigone and the King's son Haemon, and are haunting, evocative, lovely. "In this grey dawn/Only/The debauched loneliness/Of your thigh/Flung/Across mine."
The drawings are also intense–dark, moody and atmospheric, a fitting companion to the poems. They have an ancient feel, as if the artist were in fact sending his message across the millennia.
My favorite poem is the last, which perhaps explains why Slaight wrote these poems as she did. After reading intense descriptions of cosmic pain and grief, we come to this:  "And why./I wanted everything./To live all lives, all death, encompass all women./To smash every confine./And what have I done./I don't know./I have written a few words/Created a few images/Influenced a few lives./I live at the corner of St. Lawrence and Pine./I have three children."