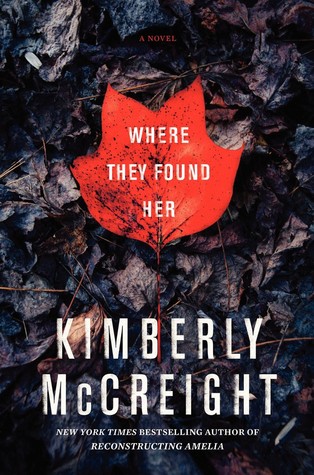 Where They Found Her is a crisp, taut thriller that exposes the fault-lines running deep in a small college town. At first all that's reported is that a female body was found under the bridge next to the river, but it soon comes out that the body was that of a newborn baby girl, and that the body has been abused.
Molly Sanderson is a newcomer. She's been living in the upscale university town of Ridgedale for about a year, working the arts beat for the local paper, when she gets a call in the middle of the night. A body's been found, the news reporter is sick, can she cover it? She can, of course. She gets her husband, a professor at the university, to get their daughter to preschool. Molly's been struggling her way out of a depression sparked by the loss of a late-term pregnancy, and her husband is worried that covering this case might just send her over the edge again. He has already had to single-handedly manage a toddler and a wife spiraling out of control, and things have only recently reached a precarious peace. But Molly is tenacious, and she's right that this is something she needs to do. But of course the story she's investigating is not her own.
The story is told from 3 different viewpoints, and while Molly's is the main one, all are characters from very different worlds. There's Barbara, who is determined that her life is perfect, her children are perfect, her husband and house are perfect, and who is going to deny any signs of stress or cracking. She's the annoying mom on the preschool run, the one noting down who's not doing her part to get her child ready for the preschool play, whose children never show up in mismatched, stained clothing. Then there's Sandra, a highschool dropout desperate for normality and stability but who is mothering her own mother, who acts far more like a teenager than Sandra does. Included are also Molly's new stories, and transcripts from her meetings with a therapist, and pages from Sandra's mother's old diary. Some have said there are too many points of view, but I wasn't bothered by it; in fact, for me it strengthened the story.
It feels kind of cliche to say that the truth lies in the past. Frankly, I'm to the point now where I read that in a synopsis and then move on to something else, because it seems that everyone is writing books in which the past has been hidden but now it must be dealt with yadda yadda yadda haunts them. BUT. Once in a while, a writer really pulls it off, and it's electrifying. This is one such book. The truth to the matter lies in the present, naturally: Who is the mother? How could she do that to her child? If she didn't do it, who did? But the fact remains that the past informs the present, especially in a small town, and there was another death at that same location 20 years earlier. Are they linked? If so, how? Molly keeps circling closer, finding things out, and she won't stop no matter how painful the truth may be.
Where They Found Her
is a book that you can't put down (and I didn't have to; I read it on a plane! It was perfect!) and you don't want to either. The clues are reveal with agonizing slowness, and I truly didn't see at first, and then didn't want to admit, where the guilt lay. It blindsided me, but it did make sense, it did fit. This is a really really really good read, one you're going to want to get your hands on as soon as possible. The suspense is masterfully done but it's the characters and their stories, their pains and triumphs, that will really pull you in and hook you inexorably until you regretfully turn that last page. Highly highly recommended.