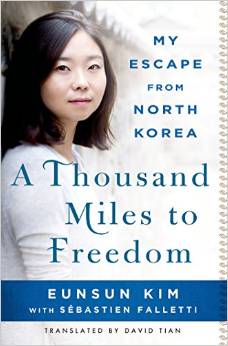 I didn't know anything about North Korea, really, so I picked up A Thousand Miles to Freedom: My Escape from North Korea for a chance to learn. Eunsun Kim begins her story when she is a 9-year-old girl, left alone in North Korea, nearly starving, while her mother and older sister left to try to find food.
Her journey takes her many places, with many escape attempts, and even though she frees herself from North Korean hunger and oppression when she and her family flee to China, she is still not free. Her story continues, and she truly gets her life back, all the education and growing-up experiences that she missed, when she becomes a citizen of South Korea.
This story is very simply told, perhaps because of her culture (not as prone to in-depth oversharing as Americans are), or perhaps because of the language difference, but it was interesting. As I was reading, I thought it would be a good book for younger readers (12 or 13 and up), but there was ONE instance where Eunsun was berated by a North Korean officer with very strong language, and that is included. It has a purpose of aiding in understanding of how awfully they were treated, as non-humans, but it was very strong language, so parents might want to check it out. I still think that teens of any age who have an interest in different peoples and countries would be interested.