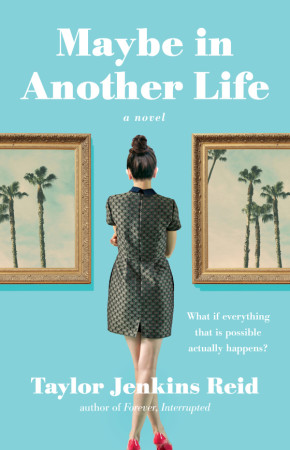 Hannah has never quite known what she should be doing with her life. She moves every few years, to another American city, and has sampled life in Seattle, Austin, LA and New York, among others. Her family live in London. She's just broken up with a married man and is moving back to LA, site of her best friend Gabby, and also the place where she went to high school. Her first night back, Gabby and her husband Mark arrange a little get-together in her honour, and her high school boyfriend Ethan shows up, obviously still interested even though high school was over 10 years ago. Should she go home with him? Or not?
At this point, the novel splits in two, following each of Hannah's choices and alternating chapters between them. In one, she goes home with Ethan, where they spend the first 3 days mostly blissfully in bed. In the other, she decides she needs to not leap into another relationship and goes home with Gabby and Mark. They stop to view an outdoor art installation, and Hannah is hit by a car, thrown several feet into the air, and wakes up 3 days later in a hospital bed facing the fact that she's going to need to learn to walk again.
It's not a new concept, but author Taylor Jenkins Reid handles it well, managing to work all the same main plot points into both story lines, and skillfully weaving them back and forth. Is there really only one right person out there for each of us? Is there only one path to happiness and fulfillment? Hannah's here to prove that no, there isn't just one "soul mate," although Gabby's life seems to point another way. And it was fun to see how choices played out. Throughout both plot lines, Hannah and Gabby discuss how things were "meant to be," from losing a pregnancy to finding and adopting a stray dog. The irony is, of course, that readers, with access to both stories, know that's not true, that there are alternate routes to happiness and fulfillment. So does that mean the force that Hannah calls the Universe and Gabby calls God is making things happen exactly as they are supposed to, even when those things are incredibly painful? Maybe in Another Life plays around with this idea, teasing its readers with it while undermining it at the same time.
The author is playing a bit with the idea from quantum physics of alternate universes, that every time we make even the simplest decision, an entire universe is spun out from us making the opposite decision. At one point Hannah even discusses this, and finds it simultaneously freeing and paralyzing.
Maybe in Another Life
is that rare breed–a fun summer read that has some depth and meaning to it, one that might even make you think. After the split storyline, things went a bit slow but soon I found myself caught up in the various situations, events and choices of Hannah's and Gabby's lives. I enjoyed this book. It'd be perfect for a poolside or beach somewhere. (Can you tell I am longing for a vacation?)
 Thanks to BookSparks for my copy and letting me join the tour.