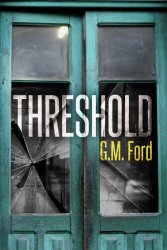 Detective Sergeant Mickey Dolan is just back to work after extended time off–due to complaints about use of excessive force, which grew in part out of anger at his wife's leaving him for another woman. (Yes, I can't help thinking of Ross on "Friends" either, but this isn't a sit-com) His boss gives him a special assignment–find the wife and daughters of the very powerful and well-connected city councilman Edwin Royster, the 3 of whom disappeared after the courts granted him full custody in spite of accusations of domestic violence, child abuse and molestation.
Dolan's case is complicated by the Women's Transitional Center and its head, Eve Pressman. Eve was a victim of domestic violence herself and has set up an organization to help other victims escape their trauma. It seems pretty obvious that they are doing something to hide the 3, but extensive surveillance hasn't turned up anything.
Years earlier, Eve was thrown down the stairs by her abusive husband and spent months in a coma, before her daughter, Grace, somehow managed to "find" her and bring her out of it. A six-foot tall abino, Grace has a gift for bringing people out of comas, and is in much demand, but she finds it takes a toll on her. And the issue is complicated. People think they want their loved ones back but it can still be painful, seeing how life has moved on, with their bodies still needing months of physical therapy and medical attention. Still, there seems to be some kind of gift that Grace has that even her worse skeptics can't account for.
Dolan, of course, is desperate to talk to Grace, but she proves to be elusive. He's sure she can lead him to the Royster family, and he's right as it turns out. Only finding them will take more than he's bargained for, and put not only his job but his life on the line.
Threshold
is like an action movie that the whole family can watch. Let me explain. I have 2 teenage boys and 1 very cynical teenage girl, and it's nearly impossible to find a movie everyone will sit through. Our best bet are action films, but I demand a certain amount of plot and characters, and I want a good story without too much violence. Threshold fits the bill. You can skim the violent bits. Dolan is street-smart and likeable, and the cast of characters around him have colour, voice and depth to them. I liked in particular how Grace faced the complications of her "miracles" with honesty and compassion, and how Dolan managed to do the right thing in a way that circumvented official blockages. It's a fun read.