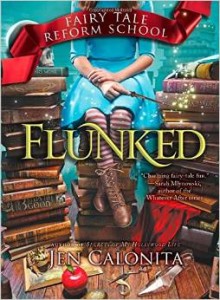 Gilly steals only because she has to. Ever since the Royal Princesses (Snow, Ella, Rose, and Rapunzel) awarded the contract for glass slippers to Ella's fairy godmother, Gilly's father's shoe business has been in a serious decline. He may have invented the glass slipper, but it's not enough to feed Gilly and her five siblings, and in Gilly's mind, stealing from those in Enchantasia who can afford to lose things isn't a big deal. Well, not until she gets caught for the third time in Fairy Tale Reform School: Flunked by Jen Calatonita.
Three times means you're headed to Fairy Tale Reform School, and Gilly doesn't know anyone who's been sent there and come out again. She's sentenced to three months, and the reform school run by all the former villains from Headmistress Flora, Cinderella's wicked stepmother, to the Big Bad Wolf to with Sea Queen and more. They've all learned the errors of the ways and spend their time teaching the young of Enchantasia how to become productive citizens.
Fairy Tale Reform School is nothing like what Gilly had imagined. It's lush, and there's plenty of gourmet food on top of attending classes to help them learn skills they can use to earn legitimate jobs once they leave. Gilly quickly makes friends with Jax who is always trying to escape, her roommate Kayla who is never around, and Maxine a goblin who helps her out in her first ever class.
Gilly is a twelve year old with a kid's attitude that is very in your face and honest, questioning things that adults would easily accept at face value. She isn't the ideal student, as she butts heads with Professor Harlow, who used to be Snow White's wicked queen. Even as she settles into her routine at school, she senses that something is a little off.
The fifth anniversary of the Fairy Tale Reform School is approaching, and Headmistress Flora is planning a ball to celebrate, with the Royals in attendance. As the date starts to draw closer, Gilly begins to suspect more and more that someone is planning to ruin the ball possibly harm the Royals.
This middle school book is fun to read. It's quick and light, and I love the messages in it that the easy way out isn't always the best. It encourages readers to think beyond themselves and their immediate and apparent goals. Sometimes sacrifice is necessary, and they have to choose amongst many paths, none of which are perfect.
This is the first book in the Fairy Tale Reform School series, and I look forward to seeing what happens next. This book ends cleanly, and I imagine that the next will be one new readers can easily pick up without having read the first, though as fun as Flunked is, why wouldn't you read it?
I passed this to my children to read, and both my son and my daughter enjoyed it. My son loved all the action and the magic and different creatures within the book. My daughter though Gilly was spunky and a great role model. Both enjoyed the fast moving story and thought the creative alterations of the traditional fairy tale characters were fun. And of course I did, too.
Written by Michelle of Honest & Truly! who was such a goodie two shoes she never had her name on the board, let alone a detention. Parenthood and adult life isn't quite so easy, as she shares on her blog Honest & Truly! and on Twitter where she is also @HonestAndTruly.