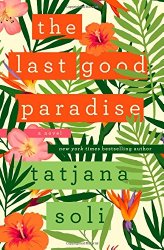 At first glance it might seem an old trope. Group of people choosing a vacation on a isolated desert island to find themselves, and all the connections and disconnections between them. But in the hands of talented author Tatjana Soli, the plot and characters are anything but cliche. The Last Good Paradise
is a delightful read, a black comedy filled with twists and turns and ending with a satisfying denouement.
Ann and Richard find themselves watching in dismay as their dreams crack and crumble around them. They've spent the last 10 years working towards Richard owning his own restaurant, funded by Ann's career as a high-powered lawyer, 10 years in which they've delayed having kids until fertility treatment is necessary. When Richard's business partner, bad boy Javi, ends up costing them the entire business before the restaurant even opens, they empty out their bank accounts before the money can be seized and fly first class to a remote atoll in the South Pacific.
The resort bills itself as sauvage–that is wild–and boasts that it has no internet connection, phone or radio. $2000/day gets you basically nothing, the idea that there will be good food, plenty of booze, white sand, palm trees, sharks, and nothing else. The resort is run by Loren, a drunken Frenchman who's escaping his own past pain and whose sardonic outlook grants him his own sort of wisdom. There are only a few others there, most notably aging rocker Dex Cooper and his latest "muse" Wende, and Cooked and Titi, a young Polynesian couple who keep the place going, especially Titi, who cooks and looks after Loren. Ann begins to relax for the first time in years, and finds herself content to be alone and stare at the gentle waves lapping the beach. When Javi sends them a sat phone, she tosses it into the soaking pool. Richard, on the other hand, enjoys his introduction to diving, and begins to form a friendship with Dex. Meanwhile Cooked and Titi are facing their own problems, stemming from the area's legacy under French rule as a place for nuclear tests, and the resulting issues. Cooked is a funny mixture of pot-smoking islander and wanna-be revolutionary, while Titi has her own way of managing things. Wende develops from sex-goddess to entrepreneurial film maker, and they all find out that in many ways, there is no going back, and that there is no escape from the outside world.
I enjoyed the first part of the novel well enough. I thought I knew where it was going, but I didn't mind, since it was funny. Then it took an unexpected turn, and then another one, and I was even happier. By the end, when all have rearranged and sorted themselves into new positions, they all have learned something about themselves, yes, but you don't mind because you  know that the characters are going to continue to screw things up, each in their own way, and yet progress has been made.
The Last Good Paradise
is a satisfying novel. It deals with the real issues of life and death, legacy and aging, colonial rule and marital strife, but with a deft, sure hand that manages to be neither overbearing nor trivial.
It's very well done. I really enjoyed it, and recommend it.