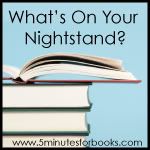 I'm actually linking up a post from my long-neglected blog, because I feel the need to focus my reading this month. How about you? I know that some of you have been snowbound, so you may have already run through your to-be-read pile. Others may just be staring at that pile, because trying to keep their kids from going stir-crazy cramped their reading style.
Or you're like me, carried away by the demands of regular life over the last month (not to mention judging the Cybils), so you're looking to dig in to books you've had to overlook.
Whatever the reason, we love it when you join in with us on the 4th Tuesday of each month to either share what you've just read or what you plan to read this month. Share the direct link to your blog post below.
Please check out our special Zodiac Legacy giveaway of a new older middle-grade/YA superhero comic novel plus an original character sketch from the author.
Check out our current giveaways. Subscribe to our feed. Follow us @5M4B on Twitter or on Facebook.