I received a gift card so that I could take my family to see the movie. I was also given the opportunity to interview Nicole Kidman. As always, my opinions are my own.
Yes, that's a "wow" of surprise. I'm not the only one who loved it. Check out these stars' reactions:
I'm not totally a movie snob. I enjoy children's movies in general, but I wasn't particularly looking forward to seeing Paddington. My 10-year-old son Kyle wanted to see it, and it opened last weekend, but it was a busy weekend, and it wasn't a top priority for me. But then I had a last-minute opportunity to do a phone interview with Nicole Kidman, one of the movie's stars, and so even though I couldn't see it before I interviewed her, I made plans to take Kyle the next day.
When I talked to her, her excitement about the movie seemed completely genuine. She talked about she loved the opportunity to make people life and to feel closer as a family, which was the result when her mom watched the movie with her two young grandchildren. So going in, I had pretty high expectations, and they were completely met.
For one thing, it's a beautiful movie to watch. It's produced by the same company that did all the Harry Potter films, and it definitely has that magical realism feel. The London setting is dreamy (meaning I wish in my dreams that I could actually go there). It is produced well, with interesting transitions and music, and everything that makes a good movie even better.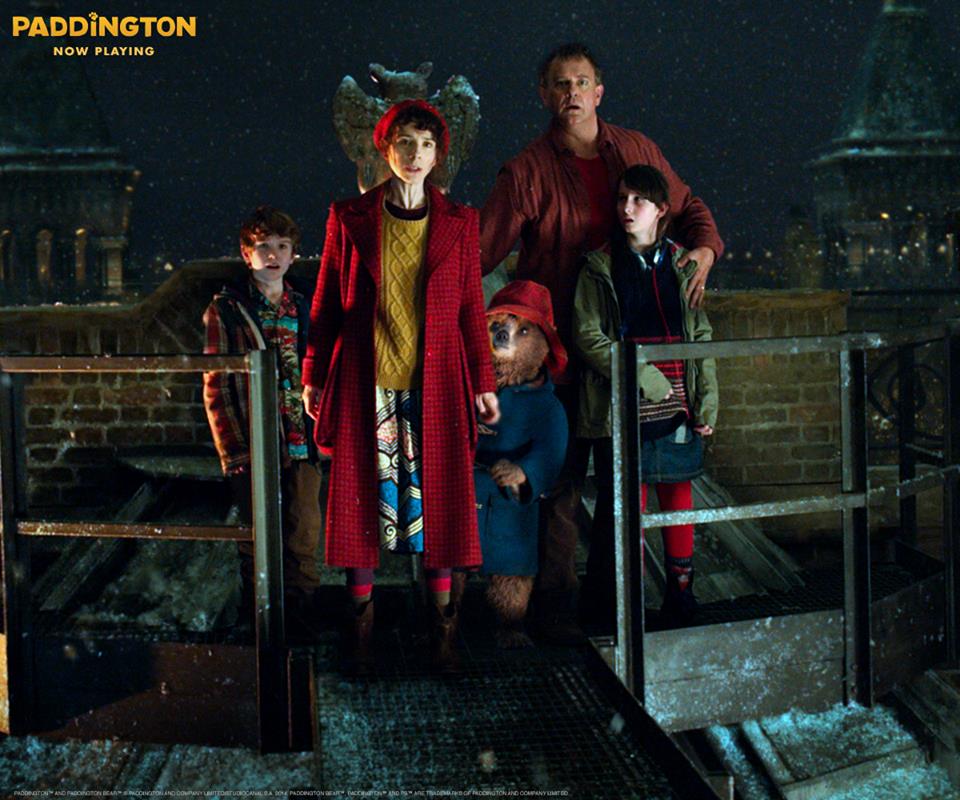 And then there's the cast: Nicole Kidman plays the villain, Hugh Bonneville has left Downton to play the overly cautious, concerned, "boring" (according to his son) father, stage veterans Sally Hawkins and Julie Waters (who I also loved in the Mamma Mia movie), and even the current Doctor Peter Capaldi (my son had to fill me in on that bit of info).
So it's beautifully filmed and well-acted, but what about the plot? The plot is good. It's great. It's funny and smart and sweet. If you judge the movie by the promos, you're likely to think that it's all slapstick comedy, and it's not at all. In fact, Paddington himself is so kind and smart that if you aren't already in love with the bear in the red hat and blue coat, you will be soon. In fact, most of the laughs come from really smart humor, which makes it very appealing to the tween and young teen set (and the parents who take them).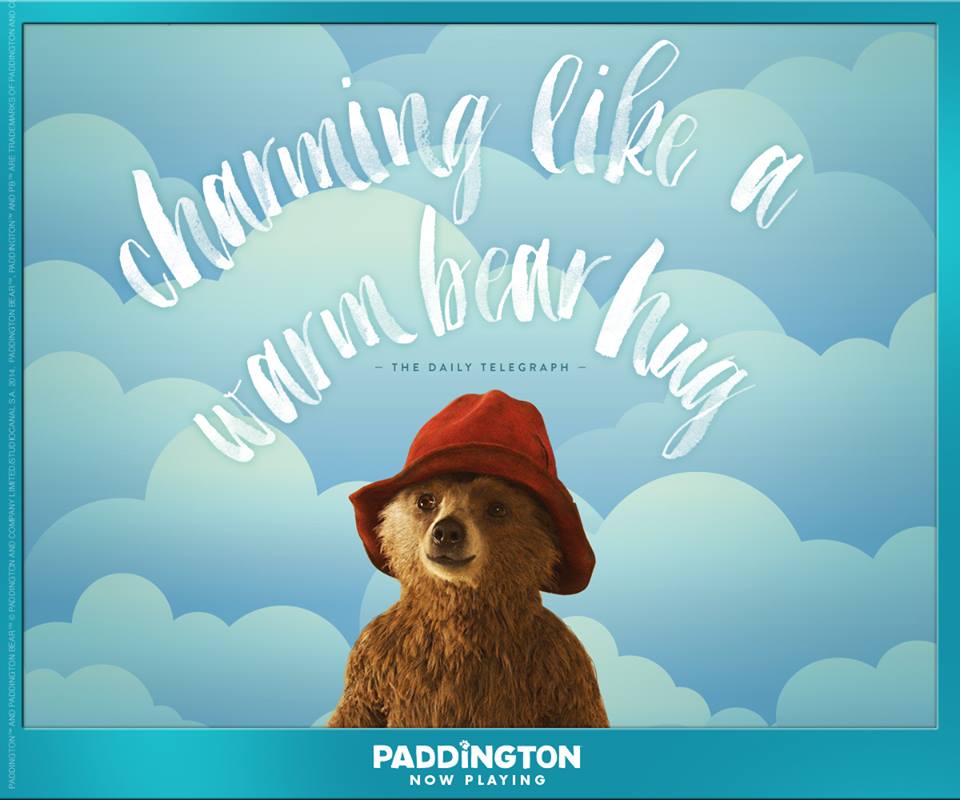 There was a bit of a twist at the end, and Kyle said, "I like it movies that have subtle hints at the future." (Yes, that's how he talks). We talked about how that was a literary device (Yes, that's how I talk), which he correctly named as foreshadowing. But it was another reminder to me that this is a great movie, not just a silly one-off movie about a buffoonish bear.
It's in theaters now, and I have a feeling it will stay there a few weeks as word gets out that this is a warm, funny, well-plotted, well-acted, and beautifully filmed movie that the whole family will enjoy. There is plenty of "more" for older kids and adults, but I think it's perfectly suited to younger viewers as well. There's a bit of sadness and some intensity, and of course the fact that the evil taxidermist Millicent (Nicole Kidman) has something other in store for Paddington than taking care of him, as his tag pleas, but nothing that any movie-going kid hasn't seen before, no matter how young. It's hard to make a movie that appeals to a 5-year-old and will also charm a 10-year-old and 40-something parents, but I think Paddington has done it.
More about the film
From the beloved novels by Michael Bond and producer David Heyman (HARRY POTTER), PADDINGTON tells the story of the comic misadventures of a young Peruvian bear (voiced by Ben Whishaw) who travels to the city in search of a home. Finding himself lost and alone, he begins to realize that city life is not all he had imagined – until he meets the kindly Brown family who read the label around his neck that says "Please look after this bear. Thank you." and offer him a temporary haven. It looks as though his luck has changed until this rarest of bears catches the eye of a museum taxidermist.
Starring Hugh Bonneville, Sally Hawkins, Julie Walters, Jim Broadbent, Peter Capaldi, Nicole Kidman, and Ben Whishaw as the voice of Paddington.
Read my interview with Nicole Kidman at 5 Minutes for Mom.
Also check out my review of the newest Paddington books, some reprints of the classics and new film tie-in versions.