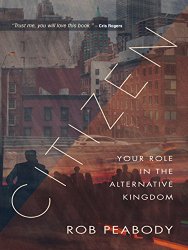 Rob Peabody was just a normal American Christian, albeit of the professional variety. The lead campus pastor of a mega-church in the south, he was part of a growing church and excited to see many people coming every Sunday, and yet sensed that there was more out there, that he was somehow missing out. He realized his church and his faith had little connection with the world around him. And so he began to re-examine his Bible and Jesus' teachings, began to reach out and connect with a Title I school just around the corner from his large church, and ultimately, ended up in London, England, where he's helped start a new missional movement called "Awaken."
Citizen: Your role in the alternative kingdom
traces his personal journey but it's much more–it's a wake-up call to the church that being saved was never supposed to just be a Get Out of Hell Free card (his term, which I enjoyed) but is instead meant to result in transformed lives which lead to transformed communities. The medieval monks had it wrong–we're not supposed to just live in Christian bubbles where we're good moral people, but instead we should be making a difference in the world around us. I'm paraphrasing here, but this book grounds itself both theologically and historically, and it spoke to my heart.
Moving between narratives that give clear examples as well as looking at the historical context of the gospel and how it's been traditionally interpreted, Peabody has created a book with a very clear message. We're citizens of heaven, and that makes a difference to how we live while we're still residents on earth, whether that be in America, England, or wherever. We may say, "Your Kingdom come, your will be done on earth as it is in heaven," but how many of us really believe and live that beyond perhaps voting a certain way (ironically enough, since the Bible doesn't concern itself with political parties) and making a weekly Sunday morning trek?
I have to say this really resonated with me. Every since returning to the States after living overseas, I've been grieved to see so many people living lives that seem trivial, concerned with nothing more lasting than a child's soccer game or lost luggage after a Hawaiian vacation, when all around us there is real suffering and real issues of life. Rob's tone isn't condescending or judgmental but he's in earnest and I think he's right. I give Citizen
my highest recommendation.