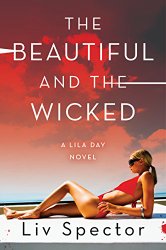 Ten years ago, in the year 2008, Lila Day's sister Ava was a guest on the boat of software billionaire Jack Warren. Her being there was controversial, in her position of Jack's mistress, as his wife and daughter were also aboard. On the night of his fiftieth birthday, Jack disappeared but his blood was found spattered all over a certain deck–and a gun was found with Ava's fingerprints on it. It seems pretty obvious she killed him, but she's been missing ever since and most people think she's also dead.
Lila, however, is positive she's not–not guilty and not dead either, just hiding. In the intervening years, she trained as a police detective and was a very good one, especially with cold cases. And she has a new weapon in her arsenal, her friend Teddy Hawkins and his time machine. He already sent her back in time once to solve a cold case. Now Lila persuades him to do it again.
The Beautiful and the Wicked
opens with Lila returning from that first case, adjusting back to life in 2019. But she's obsessed with Jack Warren's death and convinced that his wife was the guilty one, a woman who has gone on to remarry twice. She persuades Teddy to send her back to 2008, where she manages to finagle her way onto the yacht by taking another woman's place on board, that of Nikki Collins, a stewardess. For the past 10 years she's obsessively read witness accounts and guest lists so she knows some of what's going to happen, but the reality of life on board the world's most expensive yacht brings up questions and possibilities that she's never before considered.
The people on board are most certainly beautiful and wicked, and none of the characters are really likable or admirable. What keeps the plot going is the certainty that Jack will die–after all, even though his body has disappeared, there was a lot of his blood on that deck–and that Ava will play some kind of role. But what happens is nothing like Lila expects or imagines. And when she returns to 2019, she'll find that she's continuing to attempt to figure out what exactly happened that fateful night.
The premise for The Beautiful and the Wicked is certainly intriguing–the idea of time travel to solve past crimes. Of course the normal rules of time travel apply. Lila has to not see her future self, not change major events, etc. But she has a hard time following rules. She's a sympathetic character, whip-smart and glib at times as she tries to not blow her cover, thinking fast and hard. And I was hooked fairly quickly into a belief that of course Ava couldn't have really done it, and wanted Lila to find out what happened. The plot is good and the writing is crisp and clean. A fun book for a winter's afternoon, and at the time of this post, it's available on kindle for only $2.99.