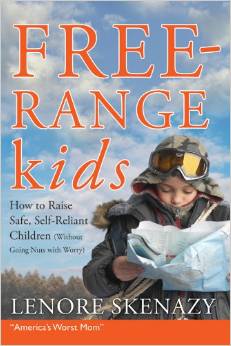 Back in July 2009, Dawn and I each read and reviewed Free-Range Kids: Giving Our Children the Freedom We Had Without Going Nuts with Worry by Lenore Skenazy. Our back and forth Q&A style review remains one of my favorites, not only because I am still recommending this book 5 1/2 years later, but because it continues to inform my parenting choices.
Dawn had the opportunity to preview Lenore Skenazy's new TV show (link is now live). Please check out her thoughts on World's Worst Mom on TLC as well as a post at 5 Minutes for Mom featuring her interview with Skenazy: Have your parenting choices been questioned?
I noticed that the paperback version (pictured above) has a slightly changed title which I like: Free-Range Kids, How to Raise Safe, Self-Reliant Children (Without Going Nuts with Worry). Please read our original thoughts below, and then enter to win your own copy.
Having school-aged children, the premise of this book was interesting to both Jennifer and Dawn. In the spirit of open discussion, we're tackling some questions, each from our own perspective.
"What were your impressions before reading the book?"
Dawn: I'm a worrier by nature, but I also worry that I worry too much. (I'm a little obsessive sometimes.) So, I kind of expected to fall in line with the author's main points, even if the image of her son riding the crazy subway all by himself made me more than a little uncomfortable. I remember hearing about the story last year, but I guess I somehow missed all the follow-up hype, so I came into this reading without much outside influence on my opinions.
Jennifer: I had missed the hype altogether, however I remember hearing the statistic that there are actually the same number of — or fewer — crimes against children now than "back in the day," and I've shared that truth along with the supposition that we are only more aware due to constant media coverage and fear-mongering. In reading the book, I was hoping to get more facts to back up this truth.
"How did the book differ or concur with those thoughts?"
Dawn: Well, I instantly liked the author's tone, kind of like the informed mom of older children who tells you stories to prepare you for your upcoming parental experiences. She wasn't just talking about her opinions, but she was backing up her thoughts with statistics to confirm that the real world isn't as crazy as we might believe! I did indeed find myself nodding along with her time and again, and shaking my head (often at myself!) when she talked about the fears that we let rule our decision-making processes. I also realized that while I might not be able to picture sending my own son alone on the subway next year, there are plenty of independence-building scenarios that are more fitting to our lifestyle and environment that make sense for us.
Jennifer: First can I say that this book is hysterical? Seriously laugh out loud funny? I usually start reading parenting books with a fair amount of head-nodding, note-taking, and resolve only to put it aside after 50 pages or so. This book was a joy to read, and I didn't necessarily expect that. And, yes, it did give me more background information on why the world isn't any more horrible it was than when we took off and rode bikes around our neighborhood (without cell phones! without helmets! without sunscreen or hats!).
"Did anything surprise or shock you from this book?"
Dawn: Absolutely the statistics! The fear of a stranger abducting one's child is so palpable in our society, so it was incredibly surprising to see just how rarely this happens. One of my favorite things she said in the book was, "Get up and go out. Spend that hour you were going to watch Law and Order on a walk with the kids instead. Look around at all the unspeakable crimes not being committed." I get it– turn off the news and engage in your world to get a more realistic view of the level of risk that's out there.
Jennifer: The more I read, the more surprised (and disheartened) I was at how much our parenting culture has changed in the last ten or twenty years. Yes, sunscreen and helmets are a good change that our children have adopted without even thinking about it. But the ever-present nature of parents — from driving or walking tweens and teens to school or to friends' houses, to being in constant contact with cell-phones — that part honestly has been a shock. It makes me wonder if I will face backlash (or at the very least judgment) as many of the parents whose stories are told in the book have for letting my tween daughter grow up as I want her to in assuming responsibilities or freedoms that I think she's ready for.
"Do you think your parenting will change as a result of reading the book?"
Dawn: I'm pushing hard for my husband to read this book as well, and I think that there are a few areas where we may be able to give our son a little more freedom. Overall, I felt somewhat affirmed in some of our decisions– such as not enrolling him in multiple activities, allowing him to have a good amount of time that's actually free. We'll see where the next year takes us!
Jennifer: On the scale of over-protective and free-range, I was probably already in the top quarter on the free-range side, but I am constantly second-guessing myself, and find myself hovering in a very non "free range" sort of way in some areas. As much as I have wanted to give my daughter some freedoms, I've either done so with a fair helping of worry or hovered unnecessarily over certain issues. This book has encouraged me to trust my gut to know what she can handle.
Enter to win
Follow the instructions below to enter to win a copy of the book for yourself.