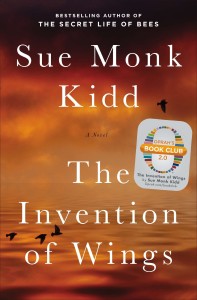 I have enjoyed Sue Monk Kidd's books, so I'm not sure why I didn't jump at the opportunity to review her book when it came out a year ago. I think I was probably overwhelmed and possibly not interested in the story set on a plantation in the south during slavery, but each time I heard mention of it, I was sorry I hadn't read it yet.
The Invention of Wings is based on the Grimke family. The novel's chapters alternate between Sarah Grimke and Hetty "Handful" Grimke. Sarah is given Handful as her own slave when she turns 13. She's dismayed and tries to refuse, then tries to free her, but neither works. Instead, she tries to do what she can to make her life better. She is kind to her, and they even become friends. Sarah teaches her to read, but when she's found out, they both get into trouble.
Inevitably they fall away from one another, but the injustice of slavery stays on Sarah's mind. She ends up leaving Charleston to go up North to help her father heal and doesn't return to Charleston for many years. She becomes involved in the anti-slavery Quaker church and falls in love before she ends up returning home for a time.
This novel follows many years and is a compelling mix of historical fiction, questions of the morality of slavery, a coming of age story, women's rights, and more. Kidd got me thinking about the issues without making me feel that I was being manipulated or converted.
Sadly, though the book takes place well over 100 years ago, I realize that we still have far to go to achieve equality between the races and the sexes.
This book lagged and rambled in places, especially towards the end, but it was a great read overall. I've passed it on to my teen daughter, and I hope she'll read it as well.
Thanks to the opportunity of a second chance at reviewing this, it's one of the 4 Bestsellers I Finally Read in 2014. Check out the 3 others over at 5 Minutes for Mom.