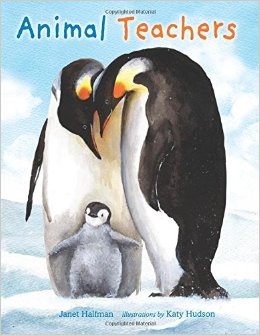 In the nonfiction picture book Animal Teachers, author Janet Halfmann introduces young readers to twelve different groups of animal parents and children. Beginning by pointing out to readers that parents and caregivers are their first teachers, parallels are then made to the ways in which animal parents teach their little ones skills or habits that are essential to each particular type of creature.
The animals chosen for inclusion in this nonfiction book are widely varied, including some exotically wild ones like emperor penguins and cheetahs, and more domestic or familiar animals such as chickens and beavers. Each animal is depicted in attractive and realistic watercolor illustrations by Katy Hudson that portray their natural habitats well.
What really appealed to me as a parent and early childhood educator was the format of each animal's section of the book. Opening with a brief introduction about an aspect of the baby animal's habitat or lifestyle, the text follows with a description of the way the animal's parent prepares him for success as an adult. For a joey, a mama kangaroo helps him learn to defend himself by demonstrating and practicing the boxing skills he needs with him as a form of childhood play, while prairie dog parents teach their babies particular cries and barks that are needed for survival in a pack. Best of all, at the end of each animal's vignette, the book poses a few questions to help readers make personal connections between their own lives and the animals they've just learned about. Following the prairie dog descriptions, readers are asked, "Do you yip? Can you bark? Or shout? Or yelp? How do you make yourself heard?" This particular example made me giggle, because my children are certainly masters at making themselves heard!
In this way, Animal Teachers doesn't just provide a bunch of interesting information, but it also encourages children to think about the individual animal's particular lifestyles and needs, and to make comparisons to their own lives, too. A list of bonus facts about each type of animal is included at the end of the book, as well, with just the type of random facts that elementary school aged children love to share. (Did you know that a one day old elephant can walk almost a mile? Now you do!) This book is wonderfully suited for a classroom or home collection to support children's interest in the animal world with thought-provoking information and questions for further pondering.