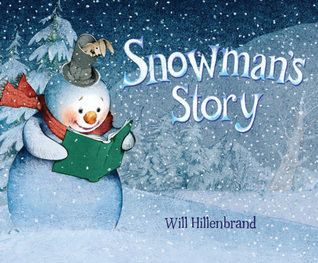 A tall black top hat falls from an owl's talons just as some woodland creatures are building a snowman. After a fluffy red scarf is put in place to accompany the hat, the now-animated snowman is handed a book, and the bear, bird, fox, and rabbit wait for the story to begin. Snowman's Story by Will Hillenbrand presents a wordless adventure showing just how far some creatures will go for a good book.
The rabbit perched inside the hat atop the snowman's head is attentively listening to the story on that beautifully snowy cover illustration. But then sleepiness overcomes everyone, and as the creatures begin to settle in for the night, the rabbit gets a sneaky-eyed look on its face… and snatches the book right out of the snoozing snowman's arms!
The chase is on when the woodland animals are awakened by the snowman's cries. The snow continues to fall deep into the night as the rabbit is pursued. Snowman simply wants his book back, but when the group discovers just why the rabbit had run off with it, the end of their chase is happier than might have been expected.
Wordless books provide children with the opportunity to tell a story in their own words. Though some adults may shy away from such an unscripted story time experience, reading wordless books with kids can actually be quite fun for grownups who are willing to slow down and really explore the illustrations in a conversational reading time. Hillenbrand's soft illustrations beautifully convey a snowy landscape, and the characters' chase goes up, over, and across hills and valleys, with small rabbit footprints to lead the way. Add Snowman's Story to your child's book collection for some snuggly reading time this winter that celebrates the power of a wonderful book.
To get a sneak peek at some of the illustrations, check out the book trailer, complete with dramatic background music!
Check out our current giveaways. Subscribe to our feed. Follow us @5M4B on Twitter or on Facebook.