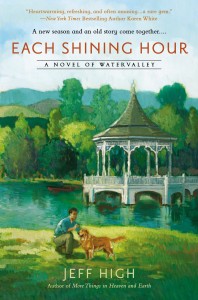 A year ago I reviewed Jeff High's first Watervalley novel More Things in Heaven and Earth on 5 Minutes for Mom. In that review I compared it to Jan Karon's Mitford series, James Herriot's country vet novels, and Patrick Taylor's Irish Country Doctor series.
The first book introduced recent Med school grad Luke Bradford who had agreed to work as the small town doctor in Watervalley, Tennessee for three years in exchange for the payment of his school debt. He slowly began to adjust in the first few months. The second book in the series Each Shining Hour is out now, and I enjoyed it just as much — if not more — than the first one.
Luke grows as a character and the supporting cast, including his lovable genius-in-disguise housekeeper Connie and the town curmudgeon John are back and they continue to be developed as well. Because Luke is pursuing a possible love interest, this novel had a romance angle as well. There was also the addition of a mystery, dealing with a long-vacant bakery building, an unsolved murder years old, and some mythical diamonds. Additional lovable and quirky characters were introduced as well.
Each Shining Hour: A Novel of Watervalley is a clean and uplifting novel, and I can't wait for more in the series. Highly recommended.