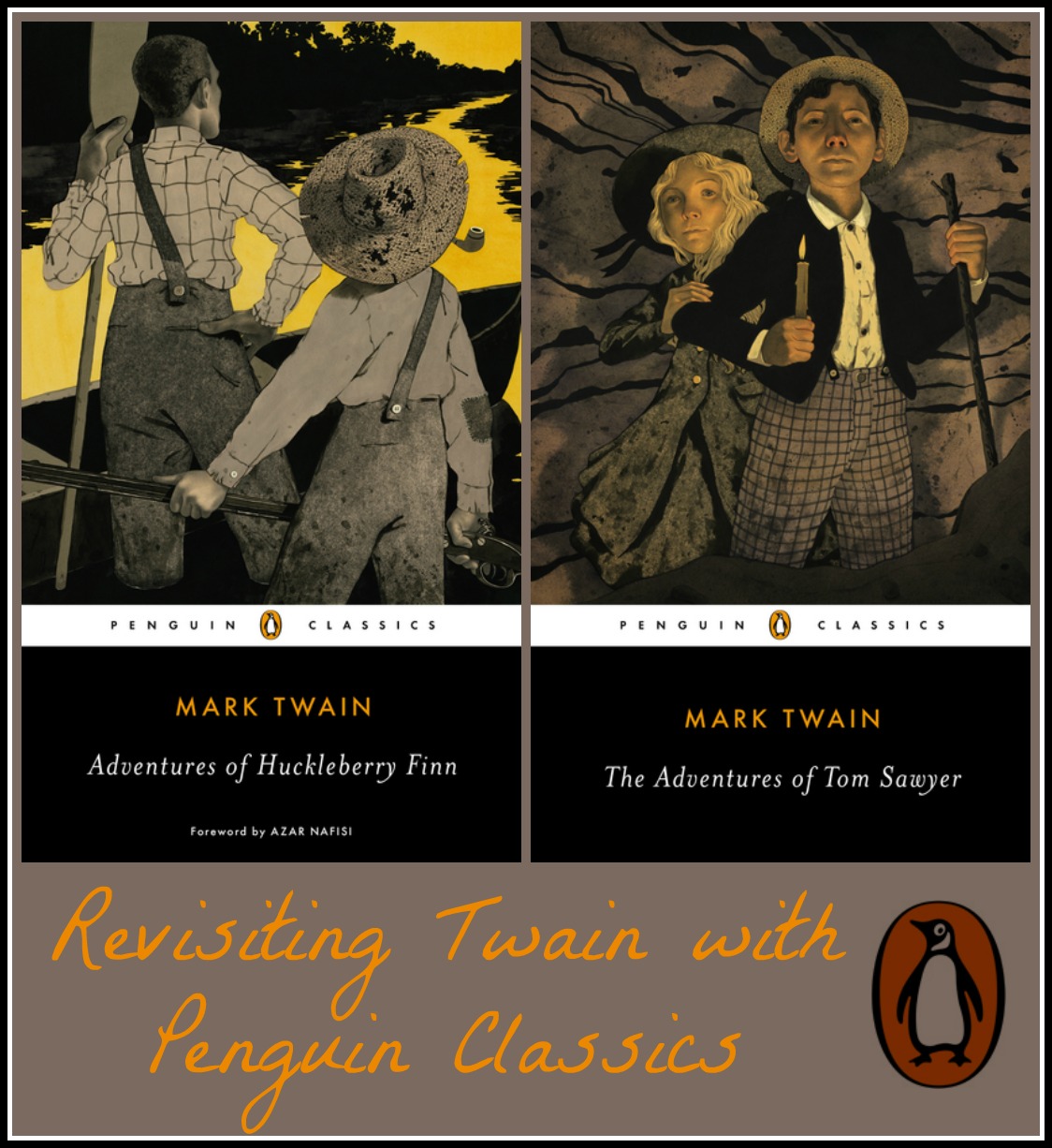 When was the last time you read Mark Twain's classics Adventures of Huckleberry Finn or The Adventures of Tom Sawyer? I'm fairly certain I read Huck Finn's story way back in high school, but I don't think it really struck a chord with me until a few years later. I attended Elmira College, a small school in western New York located in the town in which Mark Twain (Samuel Clemens) resided for many summers with his wife's family who hailed from Elmira. Every day, I would walk past an octagonal study relocated to campus from the land on which the family lived, and it was thrilling to know that Clemens wrote some of his best work inside that little building, including these two novels.
Each of the new Penguin Classics editions feature an introduction and notes written by R. Kent Rasmussen, a notable Twain scholar who helps to shed light on Twain's famous works. Adventures of Huckleberry Finn, which has amazingly been in print continuously since it was first published in 1884 in England and 1885 in the United States, and The Adventures of Tom Sawyer provide much fodder for discussion, as their title characters and their experiences reveal much about life at that time and the universalities of childhood itself. In one of the introductions, Rasmussen compares the two:
What Mark Twain was moving toward [with Adventures of Huckleberry Finn]– and what he eventually produced– was a sober, deadpan narrative free of the kinds of imaginative flights of fancy and attention-hungry character like Tom Sawyer would want to create and also free of value judgments and omniscient commentaries, like those of the anonymous adult narrator of Tom Sawyer. That novel is primarily a boy's book narrated by an adult; Huckleberry Finn would become a primarily adult book narrated by a boy.
In addition to the new introductions to the novels, Adventures of Huckleberry Finn also includes a foreword by Azar Nafisi, author of the acclaimed Reading Lolita in Tehran and The Republic of Imagination, in which she describes her understanding of Huck Finn as a quintessential American novel, and one of her favorite books. Her emphasis on the importance of fiction in a democratic society is passionate and comes from a place of understanding what it is like to live in the forced absence of such literature.
Both novels have been read by countless older children and adults for more than one hundred years, and with this latest release, they continue to broaden their audience. Will you revisit the young scamps Mark Twain created?
Check out our current giveaways. Subscribe to our feed. Follow us @5M4B on Twitter or on Facebook.