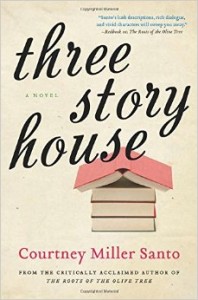 In Three Story House by Courtney Miller Santo, three cousins who are as close as sister though not related by blood are coerced into returning to the house of Lizzie's grandma when it is threatened with condemnation and Lizzie's mother and step-father who ostensibly own is are on a mission trip to Russia and unable to do anything about it.
The three cousins come together to live in the house and save it from condemnation, spending more time together than they ever have before. Each cousin is damaged and happy to escape from reality for an indeterminate time. Lizzie is a soccer star who isn't likely to make the Olympic team as she has just has her third knee surgery. Elyse's sister is marrying the man she (secretly) loves and her bed and breakfast has failed. Isobel is a child star who has never found her feet as an adult.
Just like the house is three stories, the book itself focuses on three stories in three parts with each cousin getting her say and her attempt at remaking her life. It's a compelling concept and has great promise.
Unfortunately, I didn't particularly care for the choices the characters tend to make and by extension the characters themselves. I related most to Lizzie, who had the first story. It was her grandmother's house, and she is reluctant to ask for help from her cousins or accept their money (Isobel's assumed money anyway) to pay for the repairs. Her independence and unwillingness to admit defeat even when staring it in the face is something I can understand. She knows who she is, even when physically she can no longer be that person.
My difficulty with her is her relationship with her parents. While I understand her frustration in not knowing who her father is, how she handles this is the part that I don't get. She simply freezes them out. Her step father is her primary conduit between her and her mother, and she has no real relationship with her younger half brothers. While I understand that to some degree – my own relationship with my sister not being that of feel good novels – her constant whining and need to one up anyone who complains about family is the part that really pushes me away from Lizzie.
Elyse, however, I have a hard time liking or respecting from the get go. As nice as she is, she has no drive in her life and has drifted from failed career to failed career. Her current angst is that her perfect younger sister who was the family favorite is getting married. To the man who Elyse has secretly loved since she was barely a teenager. Elyse refuses to accept that this is reality and instead is obsessed with finding a way to steal Landon away, simply because Elyse "loves him more."
Isobel, on the other hand, has had a successful acting career as a teen, but she hasn't had any luck in a long while. She is the one who brings television to their home in an attempt to revive her career and raise money to pay for repairs that become more costly than anticipated. She also doesn't tend to see others' perspectives and is willing to sacrifice even her favorite people in the world in an attempt to once again become relevant.
That said, I actually enjoyed the majority of the book, even though the individual characters were hard for me to like. There was more to the book than just their issues. The challenge of rehabbing the house, with the condemnation hanging over their heads, and their relationship with others outside the house from the inspector TJ to their contractor Benny make their interactions more entertaining.
The ending was surprisingly unsatisfying, however. It felt rushed and yet still there were pieces that were missing. Interestingly, after the book was finished, after the author biography, after the explanation of spite houses, that is when a snippet of fascinating history comes together. Don't skip reading "Spitefulness: The Short Beginning of Three Story House" at the back of the book. It doesn't answer all the questions, but it does provide a great deal of context for the house and how it came to be. I was also drawn in by the woman who was being told the story by a trolley conductor. We know little about her other than that she was a contestant on a weight loss reality show and not from Memphis, but for some reason she empathizes with Mellie who was the first mistress of the house and has knowledge of Roger who was her husband and built it – yet we still don't know what and where and why. In a way, it leaves you with more questions than answers, but it is the first set of empathetic characters in the book and I want more of this.
Written by Michelle of Honest & Truly! who feels so much better about her own family's issues. She doesn't share them on her blog, but there is plenty of life on Honest & Truly! worth reading and you can also follow along with her on Twitter where she is @HonestAndTruly.