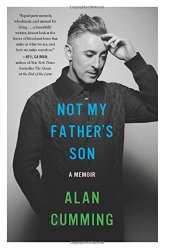 When acclaimed actor Alan Cumming was offered the chance to appear on Who Are You From?, a British television show that delves into famous people's ancestry, finds some shocking secret, and reveals all on film at which point the subject has a tearful on-camera epiphany, he leaped at the opportunity. He hoped to uncover the mystery about his maternal grandfather, who survived WW2 but never moved home, and ended up dying in Malaysia when Cumming's mother was thirteen. While he did find out about his grandfather, as this memoir chronicles, he got much more than he bargained for at the same time.
Not My Father's Son
is not a typical celebrity memoir. It's raw and honest, gripping, shocking, but also delightful, witty and even funny at times (as one would expect from Cumming). I had a hard time putting it down. Cumming is very open about all he's going through, as his father,  a man who not only abused his sons but openly carried on affairs with other women, comes out with an incredible announcement at the same time Cumming is finding out painful truths about his maternal grandfather and wondering how much to share with his mother on both accounts. It's a mess, but Cumming rises above it, recognizing that no matter how disturbing, the truth really can set you free.
Not My Father's Son
opens with a memory from his childhood, an intense account of the time his father shaved his head in a stunning episode of physical and emotional abuse. It then goes back between "then" (his childhood in Scotland with his abusive father) and "now" (the show was filmed in 2010). In addition, he fills in the gaps of his life–his denial of the abuse for years, his meeting with his father several years before the events described in this book, his fear of becoming a father himself, and more. I appreciated this back-and-forth, because frankly the stories of his childhood are hard to stomach. I came away inspired at how Cumming was able to overcome this. He describes abusive situations as times when he first learned to act. It's rare to see someone respond with such grace to such horror. Cumming even posits that perhaps there were happy times with his father, but he and his brother are just too traumatized to remember them.
Ultimately, the reader comes to recognize that Cumming is perhaps as opposite to his father as one can get, that the apple has, in fact, fallen very fall from the tree. Highly, highly recommended.