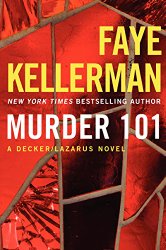 Former LAPD detective Peter Decker dreamed of a slower existence before retirement, something in between not working at all and the 80-hour weeks he was putting in. He and his wife, Rina Lazarus, have moved to a small bucolic town in upstate New York, where Decker continues to work at the local police department, mostly rescuing kittens from high trees and dealing with drunken college students. He may be underwhelmed and unfulfilled, but Rina's loving her new life and enjoying being closer to their four adult children and foster child.
Decker's life is about to get even more frustrating. He's paired with young Harvard graduate Tyler McAdams, who's been given the job as a favor to his very rich and connected father. McAdams is mouthy, opinionated, and arrogant. When the two are sent to a cemetery to investigate a broken lock, they find a priceless Tiffany glass panel missing from a mausoleum, replaced by a rather amateurist forgery. While they are tracking down art thieves, a student from a nearby college is found brutally murdered in her apartment. What started as yet another not-overly-challenging case is soon a double homicide, and Decker will have to use every hard-earned skill gained over a lifetime as he and McAdams try to track down the killer before another person dies.
Murder 101
gives us some glimpses into the lives of the thieves, but mostly the reader follows Decker as he makes multiple trips to New York city and Boston, searching for clues and allowing Rina to spend some time with the grandchildren. He reopens old cases and visits old detectives; he continues to seek for those who forged the Tiffany panels and those who might have benefited from the forgeries, including family members who knew about the valuable artifacts on display in the family museum.
This is the 22nd Lazarus/Decker book by Faye Kellerman. Oddly enough, it's the second book that I've read recently that was deep into a series, and I commented on the other that there wasn't enough background on the characters. I've got no complaints with this book. Every character was succinctly explained, but not in so much detail that the story got bogged down. I enjoyed glimpses into the backstory, and the obvious closeness of the far-flung family. Additionally, Kellerman has done her research, and I enjoyed learning about art thefts, icons and stained glass, thieves who rob cemeteries, and more.
I also enjoyed the developing relationship between Decker and McAdams. McAdams grows and matures in believable ways, and I enjoyed their interactions, even when he's being a spoiled brat with a silver spoon in his mouth. Decker combines old-fashioned instincts with his new partner's iPad and Google access, and his wry sense of humour and patience with the kid pay off. The problem is that as they get closer, the killer gets a little more frantic, until they are all in danger.
Murder 101
is a good police novel, crisp and well-written, with a good combination of plot action and character development. I definitely recommend it.