We are proud to feature author Barbara Dee's guest post this week. Barbara is the author of the newly-released The (Almost) Perfect Guide to Imperfect Boys, and also Trauma Queen and This is Me From Now On (all linked to Jennifer's reviews).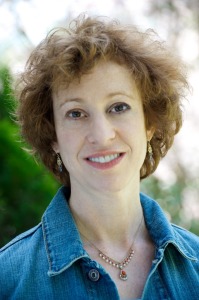 This past year I lived every mom's worst nightmare: my eldest son was diagnosed with cancer. For ten months, I sat with him in the hospital as he received all-day chemo through a mediport. Now that he's finished with his treatment, people ask me how I survived all those months. And my answer is: books. I read my way through it.
You might think that as an author of tween books, I read all the time. I do–but what I read is other tween books. I also read a good deal of YA, so that I have a sense of the outer limits of my own genre. But these are not books I'm reading just for fun; in a way, they're like homework. And at the hospital, I didn't want homework. I wanted to read adult books, for pleasure.
At first, I could read only magazines and newspapers. I was too rattled for anything that required more concentration. After about a month, though, I felt like reading something other than celebrity gossip or the day's events. But with things being so scary and difficult, I wanted only funny books. So I read several David Sedaris collections, Gary Sheyngart's memoir, and Mindy Kaling's Is Everyone Hanging Out Without Me? (which was so hilarious, I passed it along to my teen daughter).
Then I started to crave funny novels. There are surprisingly few of those around–but two I loved were Where'd You Go, Bernadette: A Novel and This Is Where I Leave You. Imagine sitting in a pediatric cancer ward and smiling. I know: implausible. But I did, and I'll always be grateful to Maria Semple and Jonathan Tropper.
Gradually, my son's chemo regimen started to become familiar, and I no longer felt quite so shaky. So I didn't just need "funny"–I could read anything, as long as it was absorbing. I read lots of Anne Tyler, Sue Miller and Curtis Sittenfeld. (Really loved Sisterland, her newest.) The two best "serious" novels I read in the hospital: Jeffrey Eugenides' Middlesex and Donna Tarrt's The Goldfinch. Both of those books were more premise than plot, but the characters were great and the writing so exhilarating. And by the way, it was funny how often The Goldfinch sparked comments by the medical staff: Oh, I loved that booki! Oh, that book is so overrated! Isn't that book a thousand pages? I've been meaning to read it–is it any good?
One thing you don't put up with when you're in the hospital day after day: any book that doesn't grab you immediately. I'm the kind of reader who usually feels guilty about giving up before I've read, say, fifty pages. Not this year–if an author couldn't transport me out of the waiting room by page ten, adios. I was ruthless, discarding several books by Big Name Authors, as well as authors whose previous books I'd loved. On to better things!
As for my son–well, he dealt with his treatment mostly by sleeping. But when he was awake, he read the entire Game of Thrones series. And he would like to thank George R. R. Martin for helping him get through a lousy ten months. And so would his mom.