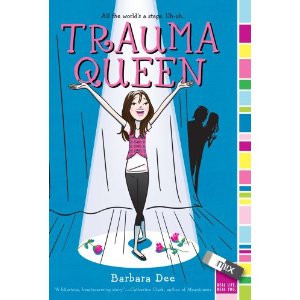 One of the absolute joys that I experienced in judging the middle grade fiction round I nominees for the Cybils was discovering many books that are perfect for that older middle school reader (like my daughter, Amanda, an avid 12-year-old reader). Barbara Dee's This is Me From Now On was one of the stand-outs (linked to my review of it and other awesome novels for tween girls).
When I had the opportunity to review her new novel, Trauma Queen, I knew it was something that Amanda and I would enjoy.
This book centers around a mother-daughter relationship, or rather the lack of a relationship, since the daughter in question is in middle school and lives in a perpetual state of embarrassment of her mother. Her reasons are many, but mostly stem from her mother's wacky job as a performance artist. In fact, one of her performances not only cost Marigold a relationship with her best friend, but resulted in them leaving town.
Marigold changes school right at the end of the year, giving her an outsider's view of all the middle school drama. There are cute boys, mean girls, and loners — all the usual suspects — but I loved that they are not portrayed in a completely stereotypcial way.
This funny and sweet novel is a great book for moms and daughters to read together. Both Marigold's ("She named me after a flower that most people think is a weed!") and Becca's ("You know I hate being called Mrs. Bailey") stories are told fairly, which will help mothers and daughters empathize with each other.

I am pleased to be able to offer a copy to one of you (U.S. and Canadian addresses are eligible). Please leave a comment if you'd like to win, and we'll announce the winner in our giveaway post on Wednesday, May 4. This giveaway is closed.
Also, please check out author Barbara Dee's guest post on "The Perfect Mom" (in literature), published here in our On Reading column.
Jennifer Donovan has never wrapped herself in plastic wrap as Becca Bailey did, but she still embarrasses her tween daughter. She tries not to blog about such matters at Snapshot.
Check out our current giveaways. Subscribe to our feed. Follow us @5M4B on Twitter or on Facebook or YouTube.