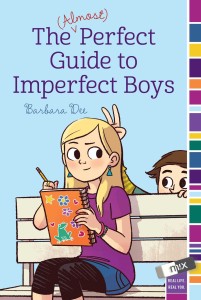 At first I thought The (Almost) Perfect Guide to Imperfect Boys was a little too cutesy and contrived, but that feeling didn't last long. I was immediately taken back to 8th grade (or even better, the fun fictitious version of 8th grade), as I got lost in the story of Maya and Finley.
Things are changing, like the fact that they aren't super-close with all the girls they grew up with. Another thing has really changed, and is constantly changing, and that is the boys. Maya and Finley started classifying the boys in Finley's science notebook, aka The Amphibian Life Cycle. The tadpoles are those boys who still burp and fart and act like 6th graders. Croakers have voices that croak, showing some sort of puberty is happening. They also might make some sort of an effort to act like human beings around girls. The most evolved 8th grade boy is a frog. Those are few and far between, but they look more mature, and actually know how to talk to girls.
When an old classmate, Zachary, returns to their school after being gone, it's as if he skipped straight from tadpole to frog. This leads to all sorts of complications, when Maya and Finley get the unwanted attention of the Alpha girls Chloe and Sabrina, who have also noticed Zachary's transformation.
Maya has had a boyfriend before (sort of), and she's beginning to feel like Finley isn't quite up to speed on boys. Can't she just get over the nitpicking and appreciate them?
Because I was so interested in this story, I kept picking it up and finished it in just two days. Reading middle grade fiction is pure escapist pleasure for me, and Barbara Dee fits the bill. She perfectly described 8th grade friendships, school life, and family life.
This is one of those books perfect for middle grade girls (see more in the related stories links below). It's right on point topically, but with none of that content that is in most teen YA that you wouldn't want a tween or young teen to read.