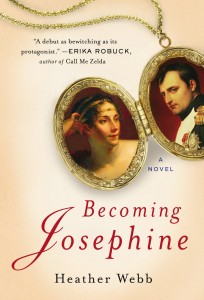 I adore history and reading historical fiction, but I typically read fiction that comes from the English point of view. Needless to say, Napoleon is typically demonized and though respected as a foe, he is personally ignored. His wife Josephine? Even more so. I know little about her, which was part of my desire to read Becoming Josephine: A Novel by Heather Webb.
One of the plus sides of this book is that it doesn't simply start with Josephine and her relationship with Napoleon. She had a life before she met him, and she had a life after  him, as well. I was thrilled to start with her as a mere girl in Martinique.
Josephine in fact came to France, specifically Paris, for marriage where she knew no one. She married a soldier Alexandre de Beauharnais who was guillotined during the Reign of Terror before later meeting and marrying Napoleon in 1796.
I had no idea that she was Rose Tascher and it was Napoleon who essentially changed her name to Josephine. Becoming Josephine was very educational in that sense. I feel like I learned a lot about her and who she was, though I frequently did not like Josephine.
The book moved quickly, covering decades and going from a 15 year old girl to a divorcee with multiple children. I was hoping for information about the historical period and the mood of what happened, but this fictionalized account instead focused primarily on Josephine herself and her moods.
I was surprised by her superficial focus on fashion and finding lovers to take care of her, both when she was married and when she was on her own searching for a protector or someone to further her goals, primarily in amassing wealth. That isn't to say that the book isn't entertaining. It frequently is, though it wasn't as period focused as I had hoped.
Along those lines, the language frequently threw me. When reading historical fiction, I expect the characters to talk and act as they would have in the period. Josephine and others do not. The theater references "shows" that were never referred to as such then, as a single example. Josephine came across as a petulant child in so many ways, throwing things and skipping and plunking herself down, all things that a fashionable matron would never do. That threw me out of the book's rhythm and made it harder to read.
Regardless, it was nice to read a book that did focus on on a historical figure that I didn't know well before reading it. I didn't like her as much as I thought I would, but I am fascinated by her now and want to read more about her. That has to be a mark of success for a book, right?
Go to the TLC Book Tours page for more information about Becoming Josephine and the author.
Written by Michelle who would loved to have been a fly on the wall in France during the reign of Napoleon but is nonetheless happy to have missed the bloodbath that also existed that the time. See how much more mundane her life is instead as she blogs at Honest & Truly! and follow along with her on Twitter where she is also @HonestAndTruly.