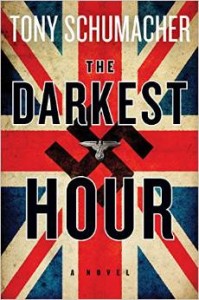 My college-age son was home for the summer. He's a future historian and already knows a lot more about it than I do. (Aside: he's fun to travel with, as good as Google but with more eye-rolls at your ignorance.) He eyed my TBR pile and selected one that looked interesting to him, set in 1946 shortly after WW2. Here are his thoughts:
The Darkest Hour
, by Tony Schumacher, imagines a world in which the Nazis claimed victory at the end of the Second World War. John Henry Rosset is a British war hero who now works as a "Jew Catcher" for the Germans. The novel opens with a typical daily routine for Rosset, including him going to a building and rounding up the Jews hiding there. One of them, however, recognizes Rosset, since he knew Rosset as a child. He entreats him to save his treasure, claiming that he knows Rosset will take care of his treasure since he is a good man at heart though he is engaged in evil acts. Rosset returns to the building to find a small Jewish boy named Jacob hiding there. Rosset is now faced with the dilemma of fulfilling his duty by sending the boy to a concentration camp, or helping him to escape from England. Rosset initially just wants to turn Jacob in and forget about him; however, he quickly realizes he cannot bring himself to do this. He thus goes on the run trying to get Jacob out of the country to safety. Rosset must now go against not only his former employers, but also the British resistance, and the communists.
I personally really enjoyed the novel. I really like Rosset's character, and I think the reader can easily empathize with him. He has lost his wife and son, and is scarred from the war. He is conflicted over his occupation, and sees the chance to save Jacob as his shot at redemption. I think it's easy to see Rosset as the bad guy and to simply label him as evil because of his role in aiding the Nazis. On the one hand, yes, what he does is appalling. However, when we truly examine his character and his motives, we see a man racked by guilt and despair. Rosset is not proud of what he has done and is doing, yet it is his way of surviving under the new regime. I thus find myself sympathizing with this man. His situation is not one we normally experience, and thus do not fully understand. Overall the novel is well written, and very gripping. Rosset is a complicated hero, yet one whom the reader can understand and empathize with. The Darkest Hour
is a compelling one of redemption and has a very interesting back-drop. It also raises the questions of what we would do to survive under the Nazi regime. How would we act in Rosset's circumstances? I would highly recommend this novel as it is certainly thought provoking on many levels.
Elliot is in his second year of University and has a double major in History and French.