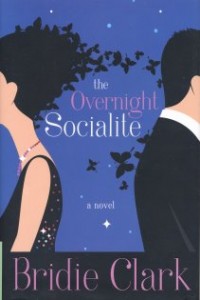 Lucy Jo moves from the midwest to Manhattan to pursue a career in fashion. Her debut on the scene doesn't exactly go as she planned and finds herself in the pouring rain, jobless, and frustrated with life. Enter: Wyatt Hayes IV. Wyatt knows the social scene and plays in it on a regular basis. He even has the girlfriend who is pursuing the social scene as a profession. Wyatt is bored with life in general and thinks that it would be intriguing to pick a "nobody" girl from the crowd and turn her into an overnight social sensation. Furthermore, he intends to write a book about the experience. He finds his "nobody" in the rain, drenched and desperately trying to secure a cab to take her home. He thinks she is perfect for his little experiment.
If this is sounding familiar, it should. It's a retelling of Pygmalion, or, if you prefer, My Fair Lady
. Lucy Jo is the outcast, unfit for proper Manhattan society, and Wyatt is the well-known, distinguished older gentleman with the connections and ability to turn her into an amazing person. As the story goes, Lucy Jo discovers she has self worth and doesn't much appreciate Wyatt's hidden agenda in all of this.
It was easy to follow along with the story, being well-versed in My Fair Lady
. There weren't any surprises along the way and it plays out exactly the way I imagined it would. The disappointment in the retelling is the modern flair given in The Overnight Socialite
. It made me think too much of Paris Hilton and the paparazzi. Neither of which being what I consider to be inspiring subject matters to me, I had a hard time being really interested in the book. Plus, there was the issue of foul language being scattered about.
Then again, other parts of the book made me think of The Devil Wears Prada
. (I didn't read the book but I did watch the movie and enjoyed it.) Part of me closed The Overnight Socialite
thinking that I would enjoy the story as a chick flick on a girl's night out. However, spending the time on the reading material wasn't as pleasurable. The idea of a remake isn't unappealing to me, but the delivery didn't grab me as an individual. In other words, it can be fun – but for me the fun would be found in a group setting and with popcorn present.
Carrie comes by her book obsession honestly, having descended from a long line of bibliophiles. She blogs about books regularly at Reading to Know and Reading My Library.