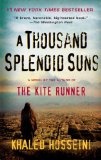 After I closed A Thousand Splendid Suns, I sat speechless, trying to come to terms with what I'd just read. "This is the reason books exist," I realized.
By turns, this story of two women living against the backdrop of the last 40 years of Afghanistan's turbulent history horrified me, inspired me, informed me, and broke my heart. In a few spots, I felt physically sick with tension. Once, around 100 pages short of the conclusion, I gave in and read the last page. A few times, I wept. Khaled Hosseini knows how to tell a story, and this one is worth every second of the pain that it brings.
The plight of Mariam and Laila parallels the plight of Afghanistan itself. Both women have a unique beauty and value that's either missed entirely, or brutally mistreated, by the men on whom they're forced to depend. In the same way, Afghanistan is taken by force and dominated by political and military entities indifferent to its culture. Just as the women are slowly whittled down, the country's infrastructure, economy, agriculture, and artistic traditions crumble with each successive occupation.
It's not a scenario that inspires cheerfulness, as Mariam realizes:
Seasons had come and gone; presidents in Kabul had been inaugurated and murdered; an empire had been defeated; old wars had ended and new ones had broken out. But Mariam had hardly noticed, hardly cared. She had passed these years in a distant corner of her mind. A dry, barren field, out beyond wish and lament, beyond dream and disillusionment. There, the future did not matter. And the past held only this wisdom: that love was a damaging mistake, and its accomplice, hope, a treacherous illusion.
It sounds pretty bleak, doesn't it? Yet the story, which begins in a garden setting that evokes Eden and descends into a chaotic and war-torn Kabul, ends on a note of hope for Afghanistan and for Laila. Mariam, despite the desolate frame of mind reflected in this passage, arguably becomes the most courageous and resilient character of all.
The personal connection to Afghanistan I've felt since reading The Kite Runner was renewed in this book. I've waited to read A Thousand Splendid Suns till I felt ready. Once I opened it, I couldn't put it down. If you haven't read it yet, I highly recommend it. But be ready.
Reading it isn't an exercise in entertainment, but in transformation.
Janet is a wife and mother who blogs about homeschooling, books and poetry, and life in general at Across the Page.