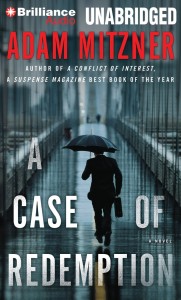 I'm always surprised how popular mystery/suspense is for hard core readers, but I shouldn't be, because when I read a book like A Case of Redemption, the term "pageturner" comes to mind as a totally apt description.
As seems to be the case in many procedural thrillers, not only is the defendant seeking redemption, but the attorney also has demons that he is trying to overcome. After the death of his wife and young daughter 18 months before, Dan quit his job as a partner at a law firm, trading hard work in for scotch.
When Nina, his friend's sister, asks for his help in defending Legally Dead, the rapper accused of killing his girlfriend, pop star Roxanne, Dan decides that it's time to get back to work. Work is good for him as is his new friendship with Nina.
The plot unfolded at a nice pace and there plenty of twists and turns to keep me interested. None seemed to be a reach, but most were surprising.
This was my first book by Adam Mitzner, but it won't be my last. I loved the way he balanced plot with character.
NOTES ON THE AUDIOBOOK
Reader Kevin T. Collins did a great job voicing all the characters. He made it easy to listen to and entertaining. I found myself wanting to squeeze in more and more time with this audiobook. Listen to a sample at the Brilliance Audio page.