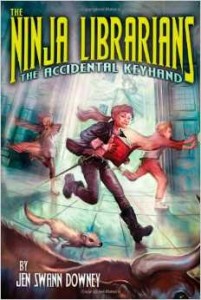 Dorrie and Marcus Barnes are thoroughly unremarkable. The only exception in the first book in The Ninja Librarians series The Accidental Keyhand is that their family lives with their Great Aunt Alice in her mansion now that she's too old to keep it up by herself. The Barnes' have to stay in their portion of it, as their chaos is an anathema to Great Aunt Alice.
When Dorrie returns a ceramic owl that her pickpocket toddler sister "borrowed" to Great Aunt Alice's section of the mansion, she ducks quickly into a wicker basket to hide when she hears Great Aunt Alice coming down the hallway with a visitor, loathe to have her relative think that she's been snooping where Dorrie doesn't belong. She hears a mysterious conversation that sticks with her later that day, even as she and Marcus head to the Pen and Sword Festival in town where they are to perform with the Passaic Academy of Swordplay and Stage Combat.
An escaped mongoose leads Dorrie and Marcus into the town library where they stumble through a magical portal that puts them in Petrarch's Library where they are greeted by suspicion by the Lybrarians and Apprentices who live there, fearing that Dorrie and Marcus are with the Foundation that aims to control the written word. The Lybrarians are figures from all over the world in all times of history who are dedicated to freedom of the written word, going on missions to save those who are being persecuted for what they write, as well as ensuring that the writings are published and shared.
As Dorrie and Marcus aim to establish themselves in Petrarch's Library, they accidentally tear out a page from an important book and then misplace the page. Fortunately, time has stopped back home so they aren't missed. Nothing goes quite the way Dorrie and Marcus wish, but they persevere in trying to solve all their issues – both at home and in Petrarch's Library.
The book is a delight to read. Though over 350 pages, it remains a quick book, as there is a ton of action throughout. The language is filled with entertaining imagery from Rosa "sucking like mad from the business end of an inhaler" to "Her heart taking off again like an ambulance." Marcus's fascination with Star Wars and his insinuation of quotes in all types of situations adds an additional element of humor, as well as making it that much more approachable for reluctant readers who have their own love of Star Wars.
Dorrie is the main character and the book is told from her perspective, but Marcus is a close second. Combining that with the constant action and emphasis on sword fighting lessons, and I find that this book is much less of a "girl" book than many others that have female leads. Both my 8 year old daughter and 10 year old son devoured the book and can't wait for the next one to come.
Enter to win
One of you can win a copy of The Ninja Librarians: The Accidental Keyhand. Follow the instructions in the widget below.
Written by Michelle of Honest & Truly who isn't sure how she feels about time travel. Maybe her life would be so different if she went back to change some key decisions she made years earlier, but you can see her life now via her blog Honest & Truly! and follow along via Twitter where he is also @HonestAndTruly.