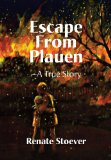 Escape from Plauen
is essentially the autobiography of Renate Stoever and the story of her childhood in East Germany during WWII, her later escape to West Germany, and her eventual immigration to America. It is often gripping and moving, especially in the early chapters which describe the events of war. Certainly Stoever has had an interesting life.
Stoever begins her tale with an account of her idyllic childhood in the German city of Plauen, near Dresden, in the years immediately preceding the war. She tells of picking berries on her grandparents' farm and of finding an anti-Semitic pamphlet on the ground, which her mother burns. All too soon, her father has been drafted into the German army, and she, her mother and younger sister are trying desperately to survive. Plauen experienced carpet bombing much like nearly Dresden did, and the tales she tells of survival are horrific. They had to scream silently–that is, keep their mouths open and tensed–during the bombing to stop the pressure from destroying their eardrums, and they hid in nearby caves where, sadly, several people suffocated.
The years immediately following the war were no better. Rationing was so fierce that food was nearly unobtainable. While the first soldiers to come were the Americans, who treated the people decently, the powers-that-were divided Germany in two, and Plauen ended up in the East, under Communist control. Her mother and aunt had to hide in the barn to avoid being raped by soldiers, and food was so scarce that she and her family were skin and bones. Her grandfather died after being beaten at random by some soldiers, and her entire family had to live in one room.
Eventually, the family manages to escape to West Germany, where they still live in one bedroom, without a proper bed but nonetheless infested by bedbugs. The locals mock their accents. Yet it's here that Renate is able to again return to school and really learn and excel, and there are opportunities for work for her parents. Things improve. After a few years, the family emigrates to New York, where they join her two uncles and their families.
However, Stoever goes into as much detail for the rest of her life as she did for the war years, and I have to admit she rather lost me there. I am planning to send my copy to my mother-in-law and I think she is going to love it. It's a style of writing that is somewhat out of fashion now, which is why I called it an autobiography and not a memoir. Stoever is a good writer and Escape from Plauen
is interesting. War wrecks terrible havoc on everyone it touches, and it was fascinating seeing it through the eyes of a child. This book isn't for everyone, but there is certainly an audience that will enjoy it.