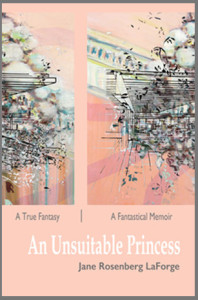 An Unsuitable Princess is an odd hybrid of fiction and memoir, told in alternating segment of "true fantasy" and "fantastical memoir." The initial story follows a young blacksmith's son, Samuel, and his frustrated love for the mysterious Jenny, a mute with bright green eyes and an ability to heal that borders on the edge of witch. Jenny lived with Samuel and his family for a while, although Samuel does not understand why or how. She saved his life when he would have died from pneumonia. She's officially an outcast, and has had to leave the protection of Samuel's family, but she's taken in by Sir Robert. She lives out in his stables and tends his horses, refuses any attempts to give her better clothes, food and lodging, and saves his life.
Meanwhile, Jane is growing up in the Canyon, just outside of Los Angeles, with a mother who struggles with bi-polar disease and a father who struggles with depression and other health issues. She isn't popular at school and it soon becomes apparent she will not grow into her nose. She doesn't make it into the gifted classes. She comes alive with the creation of the Renaissance Faires in the late 70s-early 80s, where she fills a lowly role as a wench at a dunking booth and begins dating Sam, a charming young man with an unspecified illness.
Jane Rosenberg LaForge writes her memoir through a series of footnotes, and I really enjoyed seeing which words spun off a memory. For example, in the fantasy, Sir Robert will say, "So this girl has never spoken" and certain words will be highlighted. Then, in a different font 2 lines down there will be a flower and the words "I know the physically damaged female as dramatic inspiration is terribly retro, but I have an excuse…" (p 77) Or "His father had taken charge of the presents he was collecting…a pint of cream and strawberries" followed by "I've spent a good deal of my life having a stomach ache…" (p 165) I was intrigued by the fact that these thoughts connected in LaForge's mind. I found this unusual way of telling two tales worked. I had no problem following both, and read the memoir section as ideas spun off the fantasy, and the fantasy as ideas spun out of the author's past experiences. She is achingly honest; this is not a tale of being secretly loved and admired but of wanting to belong. She has spent years regretting how things played out with Sam, and this novel is the result.
As the tales advance, the relationship of the one to the other becomes more obvious. Just as Jane cannot ultimately save Samuel, Samuel is able to save Jenny. I know that's kind of a spoiler, and I'm sorry, but I had that much figured out from the comments on the back before I read it and it didn't spoil it for me. Indeed, it added to the layers; as the two stories are interwoven, you'll see what transpired in real-life Jane's background gives inspiration for Samuel, Jenny and Sir Robert.
An Unsuitable Princess is a most unusual book, but I enjoyed it.
Please note: Amazon is offering a special price for Kindle right now.