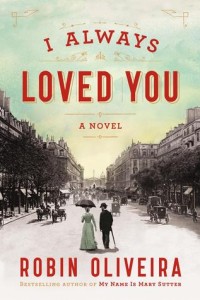 I liked this book, my first by Robin Oliviera. I liked it a lot. It was memorable, but it was also a slow read. It took me a long time to read it. I was reading other books as well (either by choice or to meet deadlines), but not necessarily because this one didn't keep my interest. I just had to have my head in it when I picked it up.
This is the fictionally imagined version based on research and historical fact of the friendship/relationship between painters Mary Cassatt and Edgar Degas. It's mostly the story of Mary Cassatt, an American painter in Paris in the late 1800's during the impressionism movement. Her struggles as an artist striving to earn a living are well described, and Degas' insistence on art for art's sake is a good contrast. The portrait of Mary painted here (no pun initially intended, but hey – it works) is a full one — that of an expat, an artist, a friend, a sister, a daughter. She and these other characters will continue to live in my mind.
My teen daughter is very interested in art, so I've become more familiar with artists, having visited several museums and exhibits with her. In fact, we're going to see the Impressionist exhibit here in Houston soon, so I know that reading about Cassatt, Degas, Monet and Manet and more will make the artwork come alive even more.
If you like art or learning about people or time periods through historical fiction, I can recommend I Always Loved You, especially if you don't mind a slower pace.