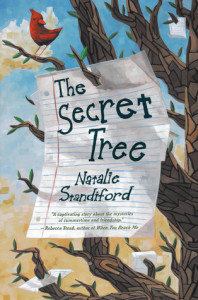 Don't let the cutesy cover of The Secret Tree lead you into thinking that this book is geared toward young independent readers, for beneath it actually lies a middle grade novel dealing with a range of fairly complex emotional issues. Natalie Standiford has created a story of several layers, with the idea of secrets at the core, and the results are thought-provoking for middle grade readers.
At the heart of the story is almost-11 year old Minty, a lover of roller derby who has the entire summer break ahead of her to hang out with her best friend Paz, skating and reveling in what has always entertained them. Sounds perfect, except that Paz seems to be changing a bit this summer, trying to shed what she sees as more "childish" ways as part of an effort to make friends with some of the older, cooler girls in middle school. Minty is entirely content with the idea of another summer as 'Minty Fresh' and 'Pax A. Punch,' practicing their routine for the fourth of July parade, and she doesn't know how to deal with her best friend's growing distance. She begins to wish that she never had to grow up at all.
Though the story centers around Minty in the summer before she begins middle school, there are several layers of side stories related to her family, friends, and neighbors that add to the web of personal struggles. Some are universal experiences- the ups and downs of friendship, sibling rivalry, and adolescent/parent relationships, while others are faced by only some among us- neglectful parents and coping with divorce, for examples. These struggles and their accompanying secrets, which Minty finds in the tree from the title, all become intertwined in a series of mysteries she tries to solve with a new friend, a boy who is quite mysterious himself.
Told from the perspective of Minty, the issues aren't deeply explored, but still touched upon in thoughtful ways, making for a middle grade novel with more than meets the eye.